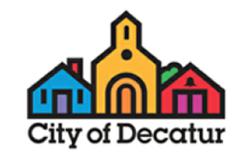 Mayor Bill Floyd said, "We are looking forward to implementing paperless agendas in an effort to ensure that we are doing our part to reduce paper waste with a streamlined solution that fits our needs."
Decatur, GA (PRWEB) September 27, 2012
The City of Decatur, Georgia has adopted a paperless agenda program developed by iCompass Technologies - AgendaNotes iPad Lite – for its City Commission meetings. The move to eliminate the paper normally used to print agenda packages is part of the City's ongoing commitment to the environment and effort to provide efficient services to citizens.
In June, Decatur completed a community-driven Sustainability Plan that outlines its ongoing sustainability goals and efforts to achieve them. "Paperless agendas are a direct response to the goal of providing efficient services while promoting sustainability practices within our operations," said City Manager Peggy Merriss. The approach is unique in that the city's sustainability model includes four distinct areas – economic, community, organizational/institutional, and environmental, while many sustainability models tend to focus solely on environmental and "green" initiatives.
Using paperless agendas offers the opportunity to reduce the amount of paper used on a regular basis. The City Commission meets twice monthly and the typical agenda package averages 30 double-sided pages with a total of 18 hard copies that go to the City Commission, media, and staff. In addition, the city provides 20 half-page agendas for those who attend the meetings. Using a paperless agenda system means the city could save over $2,000 in printing and paper costs and 6.9 trees annually.
Although environmental issues are a key piece of the sustainability model, they only make up one part of the big picture. In addition to meeting the City's sustainability goals, ease of use and a streamlined process were required. City Manager Peggy Merriss explained, "We have been searching for a way to offer a 'paperless' agenda package without adding an extra layer of preparation to our process."
Mayor Bill Floyd said, "We are looking forward to implementing paperless agendas in an effort to ensure that we are doing our part to reduce paper waste with a streamlined solution that fits our needs."
"Decatur's dedication to a four-pronged sustainability approach is commendable, and we are thrilled that our AgendaNotes iPad Lite solution will play a key role supporting the city's initiatives." said Scott Neufeld, VP Marketing for iCompass Technologies.
About the City of Decatur, GA
The City of Decatur is an urban city located six miles east of Atlanta. It is a walkable community of more than 200 shops, restaurants, and pubs, salons and services, and a year-round calendar of festivals and cultural events including the largest independent book festival in the country. Friendly neighbors, tree-lined streets, great schools, parks and playing fields, libraries, colleges, and businesses all make this town of around twenty thousand people a wonderful place to spend some time.
Named after Stephen Decatur, a 19th century U.S. Naval hero, Decatur retains a strong connection to its history, while preparing for the future with managed growth and responsible development. Decatur maintains its own identity while forging bonds with other communities locally, nationally and internationally.
About iCompass Technologies
During the past 14 years, iCompass has built a market of over 400 local government and other public sector customers across North America. iCompass provides CivicWeb, the leading cloud-based Meeting and Records Management Solution for public sector clerks who are swamped with never-ending tasks related to managing their meeting process, records administration and tracking responsibilities.
CivicWeb automates meeting and records management workflow in one system, and facilitates open governance through comprehensive and seamless access to information. It provides a real-time pulse and complete visibility into what's going on across the entire organization, and enables the shifting of resources to other pressing priorities.