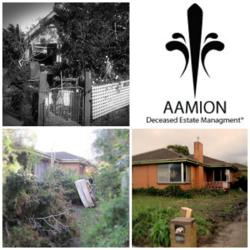 we are not hiding behind a yellow pages ad or anonymous website
(PRWEB) May 29, 2012
For people handling deceased estates, one of the most emotional and time-intensive tasks they face is cleaning out a home and making it more attractive to buyers. Aamion Deceased Estate Management, has just launched a video marketing campaign that explains how they take the pain out of this task.
With an established reputation for superb customer service, Aamion's principal, Andrew Picker, explains how video marketing is helping him to connect on a whole new level with potential clients.
"There aren't many businesses such as ours that provide a comprehensive service - from deceased estate house cleaning, rubbish and furniture removal and garden tidying. We are a young and enthusiastic team, and the best way to convey who we are and what we do, is through video," he says.
"Through our first video, I have explained our different services - some of which might be surprising to many," continued Andrew. "But most importantly we are making a personal connection - we are not hiding behind a yellow pages ad or anonymous website. Viewers see me, the person who will manage their deceased estate management project."
To view the video that launches Aamion Deceased Estate Management's step into video marketing, visit http://www.aamion.com
About Aamion Deceased Estate Management
AAMION Deceased Estate Management has gained a strong reputation as a trusted and reliable provider of estate management services. Our goal is to solve problems – and take as much burden and hard work off your hands -- we understand how delicate estate management is, especially when it's a loved one that has recently departed.
Our aim is to take away the worry and emotional hardship that comes with clearing an estate. We want you to feel secure, knowing that Aamion treat the work with the utmost respect and discretion.
It goes without saying that once we're finished and we hand you back the keys, the entire property will be perfectly prim and proper. Our services are extensive and include various aspects of Estate Management including Contents and Waste Removal, Landscaping, Cleaning and Repairs.
For information and examples of Aamion's Estate Clearance work, visit aamion.com