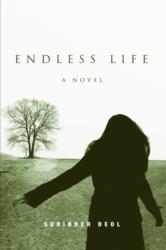 The struggle of being a woman and a single-mother and trying to find one's identity and path, is at the core of this novel.
Potomac, MD (PRWEB) December 10, 2012
Felsen Press announces the release of a gripping new romance novel Endless Life by author Surinder Deol ($19.95 Paperback 978-1-936085-65-1; $9.95 eBook 978-1-936085-66-8). Endless Life portrays a woman's search for love and meaning across two continents in an increasingly complex world.
After a traditional marriage in India brings protagonist Malti to New York, the love she dreamed of eludes her. The passage of time, however, brings new challenges and a heart wrenching loss. Malti moves back to India in search of someone who could unlock the mystery that was causing her immense distress. She accomplishes this mission with help from Harish, a newly minted real estate billionaire, whose love for Malti goes back to their time together in college. Through all of this, Malti never stops dreaming. It is this act of not stopping to dream that makes her life truly endless.
"Endless Life is a story of our time, with a multicultural theme that unfolds in two very different cultures in India and the US," explains author Deol in a recent interview with Decent Hill. "Malti's struggle, being a woman and a single-mother and trying to find her own identity and her own path, is at the core of this novel. Reading this novel is both an emotional as well as a graphic experience."
Potomac, MD resident Surinder Deol is set to embark on a series of book signing events and media interviews across the East Coast and around the country.
Felsen Press, an imprint of Decent Hill, is a leading publisher of critically acclaimed fiction and non-fiction titles. Retailers can order copies of Endless Life through Ingram and other book distributors. This title is also available on reputable retailer websites like Amazon, Barnes and Noble, Diesel eBooks, etc. and at the publisher's website: DecentHill.com.
Book reviewers, TV and radio show hosts, reporters, and bloggers can instantly download a review copy of this title here. Please send notices of posted reviews or interview requests to the contact info listed at the top of this release or by calling (866) 688-5325.