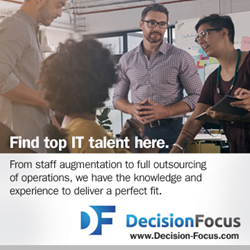 We strive to prove our value on every interaction and are confident in our ability to exceed expectations in the Phoenix region." — Chander Makhija, President
Scottsdale, AZ (PRWEB) November 18, 2016
Chicago based IT infrastructure and security services firm, DecisionFocus, Inc. ranked on Inc. 5000, announced Southwest expansion by opening new office location in Scottsdale, AZ, a burgeoning suburb of Greater Phoenix.
Their Scottsdale office will be headed by Don O'Neill, Managing Partner. Don, an IT infrastructure veteran whose career has spanned 20+ years, will focus efforts in helping companies with designing, optimizing, securing and migrating their data center facilities across the midwest.
"Our continued success in the midwest region is an echo to the great people who work for us, our network of top IT talent, and the trust our loyal clients have in us. We strive to prove our value on every interaction and are confident in our ability to exceed expectations in the Phoenix region." — Chander Makhija, President
"The decision to expand our presence into the Phoenix marketplace was a logical step in our business growth strategy. This area has a rich and diverse talent pool along with a good presence of Fortune 500 companies. Our expertise in enterprise infrastructure enables us to help clients successfully staff their IT projects and will ensure our continued success in this new market." — Don O'Neill, Managing Partner, Scottsdale, AZ
Grown organically through years of experience in successfully assisting Fortune 100 clients with IT infrastructure and security, DecisionFocus has gained a unique perspective and understanding of today's IT needs. This next generation mindset is attracting top IT talent pool and providing their clients with the opportunity to build powerhouse teams faster and better, quickly moving the needle towards their business goals. With Inc's top 50% rating it's clear that DecisionFocus is doing many things right.
About DecisionFocus, Inc.
Launched in 2007 by Chicago based Engineer & Kellogg Alum with 20+ years of IT expertise, DecisionFocus leverages deep rooted connections within the booming tech community to meet client IT staffing and implementation needs in timely fashion. DecisionFocus' tech savvy recruiters leverage their network to locate, engage, and thoroughly screen candidates with specific high-demand skills. DecisionFocus' staffing and augmentation services are now helping blue chip companies implement intelligent solutions that can build and manage their entire IT landscape in automated ways. For more information about DecisionFocus, Inc. visit their website: http://www.Decision-Focus.com.