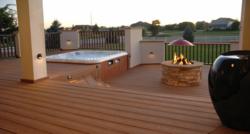 Homeowners are choosing Deck Helmet for deck resurfacing and refinishing as a cost effective alternative to replacement.
Bethesda, Maryland (PRWEB) April 01, 2013
Deck Helmet a top-rated deck restoration company in Bethesda, Maryland, will be celebrating National Home Improvement Month in May 2013 with an incredible deal for homeowners looking to upgrade and enhance their deck by offering 50% off materials through April 20, 2013.
According to a consumer poll from NARI.org, the official website of the National Association of the Remodeling Industry (NARI), the largest determining factor for deciding to "do it yourself" or hire a professional was cost, at 40 percent. Thirty percent of respondents placed project type and know-how as the second most important factor, and level of difficulty was close behind at 25 percent. Safety and length of time required to complete the project were last, with 2 and 3 percent respectively.
With home prices rising throughout the United States for the first time in the past five years, many homeowners are thinking about making modest renovations that can increase the value of their existing home without costing a small fortune. While many are still reluctant to make major renovations there are many smaller updates that can transform the look and feel of a home. "Homeowners are reconsidering costly deck replacement which can easily cost more than $10,000 and choosing Deck Helmet for deck resurfacing and refinishing as a cost effective alternative," says Jason Apter, owner and President of Deck Helmet.
"Safety is another concern for people with aging decks, by replacing warped and rotting wood and resecuring railings and stairs, we have helped hundreds of homeowners enjoy their deck year round with the safest and most affordable deck resurfacing system around."
Other popular home renovations this season include upgrading kitchens and bathrooms with new flooring and modern energy-efficient appliances, roof repair/replacement and exterior painting and siding. "National Home Improvement Month is a great opportunity to think about how to add improvements that will enrich the quality of your life and increase the value of your home," says Apter.
About Deck Helmet
Deck Helmet reviews its Revolutionary Deck Resurfacing System to transforms an old worn out deck to a beautiful low maintenance composite deck at a fraction of the cost of deck replacement. Deck Helmet's Patent Pending System eliminates yearly maintenance and permanently protects your deck for ten years. Deck Helmet eliminates rotting, cracking, warping, splitting and does not stain or splinter – providing a mildew resistant finish that can easily be cleaned with just soap and water.