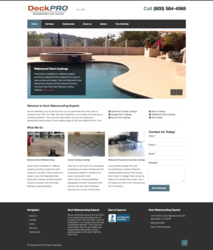 Orange County, California (PRWEB) December 11, 2012
As reported by Buffalo News, a deal has been struck to repair the "deteriorated concrete at 39-year-old Ralph Wilson Stadium," in Buffalo, New York. The stadium which is home to the NFL Buffalo Bills has been slowly wearing down over the years and is in serious need of fixing. While the damage is "not severe," it is top priority to be taken care of. The lack of waterproofing has led to the concrete not holding up over the years. This repair will cost $4-$5 million dollars.
To avoid costs like this and take care of concrete and deck waterproofing needs on a budget, Deck Pro Waterproofing Experts knows how to take care of their clients in a timely and financially friendly manner. Specializing in waterproof deck coatings, decorative concrete coatings and epoxy floor coatings; this company has the tools, materials and resources to take care of any waterproofing needs.
The Deck Pro concrete sealer experts offer three different types of waterproofing plans known as Versa-Deck Plus, Versa-Deck and Versa-Deck LM. Versa-Deck Plus is known to be "the toughest waterproof deck coating available." Often referred to as bullet proof, Versa-Deck Plus is a successful system of coating that will protect the decks and balconies of prized real estate. Versa-Deck, the original waterproofing system is a cheaper and less extensive version of Versa-Deck Plus. It is made up of the final 3 steps of the Versa-Deck Plus system and is known for being breathable and dry rot preventive. Lastly Versa-Deck LM is the most basic waterproofing system. Created specifically to help people on a budget, this system is implemented specifically on new plywood decks. There is an option to later upgrade and install a Versa-Deck or Versa-Deck Plus over the Versa-Deck LM for better waterproofing results.
Deck Pro's professional products, timely execution of services and success in implementation all contribute to the executive level this company works at. Deck Pro strives to improve the lives of their customers by fixing the outside concrete and decks of their homes. Live easier knowing a home will not deteriorate during the winter and spring season. Deck Pro's reputation for success has been endorsed by celebrities such as famous boxer Laila Ali for their successful repair of her balconies. Laila states, "I hired them to repair all of the upstairs balconies at my home. I am pleased to say that they have done an excellent job on the repairs and waterproofing. The work crew was professional and completed the job right on schedule. I would recommend his company to anyone." If a balcony needs protection from the rain or snow, do not wait to waterproof a home, call Deck Pro they're ready and waiting.