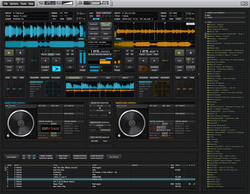 Argu is deeply missed by all of the team here at Image-Line, he was one of the friendliest and most talented developers we ever worked with
(PRWEB) August 1, 2007
Sint-Martens-Latem, Belgium Image Line Software, the developers of FL Studio, is dedicating the release of Deckadance 1.13 to its creator, Juan Antonio Arguelles, known to the music community as 'Argu', who passed away in a car accident in early June.
"Argu is deeply missed by all of the team here at Image-Line, he was one of the friendliest and most talented developers we ever worked with," said Jean-Marie Cannie, Managing Director of Image Line Software. "He was dedicated to his work, created genius applications and we would like to assure the Deckadance community that we must and will continue Argu's work."
Image-Line is pleased to hand the baton for Deckadance development to the capable hands of Luis Serrano Cavero. Luis is an experienced developer of DJ tools, including his own DJ midi controller, and brings further inspiration and enthusiasm to the Deckadance project. "We are very proud, and fortunate, to have Luis on the team. As experienced developer of DJ tools, he will bring new continuity and enhancements to our Deckadance DJ Software," said Mr. Cannie.
Deckadance 1.13 comes with a range of improvements and bug-fixes as well as some new features, including improved deck synchronization and PFL monitoring enhancements (PFL stands for Pre Fader Listen also called "cue") for blending the Main and PFL mixes in the headphones.
The latest release also includes native support for the new Behringer BCD3000 console. All BCD3000 controls are now assigned to functions in Deckadance, with correct labeling on the BCD3000. Finally, cue points have been enhanced by the addition of an 'instant real-time set cue point' feature so that cue points may be set while a deck is playing.
Mac users are advised that development of the Deckadance Mac version is on schedule to be completed by the end of October.
Download Deckadance 1.13 from this Deckadance Download location.
Pricing
Regular retail pricing is USD $179.
Visit Deckadance Order Page to purchase Deckadance.
About Deckadance:
Deckadance was released in May (check the original press release). It is a fully featured DJ mixing application in which creative DJ performance is the key design philosophy. Deckadance can be controlled using most existing midi controllers and time-coded vinyl and CD systems. Deckadance works either as a standalone program or as a VSTi plugin inside a VST host. Deckadance can also host any VST-compliant softsynth or effect. Check Deckadance Web Site for more information and features details.
About Image Line Software:
Established in 1994, Image Line Software provides high quality music applications to the computer-based music community and is well known for its leading digital audio workstation FL Studio (formerly Fruityloops), high quality synthesizers including Sytrus, PoiZone and ToxicIII, a mix of innovative Effect plugins and range of sample libraries used in their multi-sampler plugins DirectWave and Soundfont Player. In May 2007 Image Line Software released its acclaimed DJ mixing software application Deckadance. In addition to their audio software, Image-Line develops and distributes the web site building application, EZGenerator.
For more information, please contact:
Maya Boycheva, PR Manager
Image Line Software
pr(at)image-line.com
###