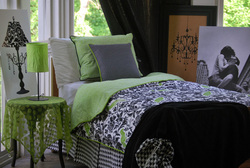 Living in a college dorm should not be a sentence to endure a year of less than desirable surroundings in a tight space. With Deck My Dorm, you can take your dorm room from ho-hum to fabulous without breaking the bank.
Duluth, GA (PRWEB) May 25, 2010
The idea for Deck My Dorm (http://www.deckmydorm.com) formed over time after numerous visits to notoriously bland dorm rooms around the country. With daughters' of clients who had set off for dorm life and Cook's own daughter entering college, it became apparent that there was little to choose from in college dorm décor. The traditional high school graduation gift certificate to a big box retailer to select from mass-produced, low quality, cookie cutter dorm décor somehow fell flat, and custom dorm bedding was more than many budgets could bare.
"A dorm room is really no different than any other design space. A dorm room is four walls, a blank canvas, just as the many Designer Showhouse bedrooms we have transformed over the years. A room becomes a home when given a personality," says Wallace.
The vision Cook and Wallace had for Deck My Dorm was to do just that: provide those destined for dorm life the option to infuse their dorm room with their unique style, personality, and spirit while keeping the parent's dorm budget intact. At Deck My Dorm, you can choose from 17 unique college dorm bedding collections such as "Absolutely Alice," "Meet me at the Metro," "Serendipity," and many more. Each bedding collection has a personality as unique as your own with color palates ranging from the trendy to the traditional. Cook and Wallace have personally selected accessories, lighting, storage, window treatment, art, rugs, etc. that have been specifically designed to enhance the style of each Deck My Dorm collection. But Deck My Dorm is so much more than bedding: it is a style that encompasses the entire dorm living space.
So you already have your bedding and are looking to add cool, hip dorm accessories and decor. Deck My Dorm is your answer! Have fun as you choose from the wide selection of window coverings, accent lighting, and cool, ready-to-hang wall decor that can easily be incorporated into future living spaces. Deck My Dorm also offers gift certificates and a "wish list registry" as well as tips for transforming your dorm room. You can begin decking your dorm today at http://www.deckmydorm.com!
Jennifer Cook and Jana Wallace do not plan to stop here! They are constantly adding new products to Deck My Dorm. In their search for affordable and chic dorm decor, their vision for designing dorm spaces expanded into designing for life after the dorm and designing for small spaces. In late Summer 2010, the designing duo will bring you another hip and fashionable online site http://www.peaceloveanddecorating.com!
###