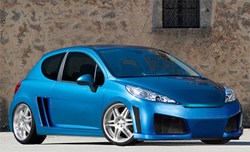 Ignoring your modifications when filling out a car insurance form could be tempting, we urge drivers to be honest.
(PRWEB UK) 3 May 2013
If a driver has to make a claim and the insurer discovers that their car had modifications that were not declared when the car was insured, the insurer may refuse the claim and the driver could be open to prosecution for fraud.
It is often more difficult to find cheap modified car insurance than it is standard car insurance as many insurance providers will not cover a car which has been modified and others will charge a substantial premium.
Tiger.co.uk has carried out some research which shows that just adding non-standard alloy wheels to a 2002 Citroen Saxo (driven by a 28 year old male with a clean driving licence) can add as much as 41% to a car insurance premium. Adding a performance modification such as an aftermarket exhaust could put this driver's insurance premium up by a massive 65%. This rise in premiums was even more noticeable for younger drivers - a 25 year old driver with an aftermarket exhaust could see their insurance premium increase by more than £1,000.
With premium increases like these there is always the temptation for a driver to avoid declaring modifications. Unfortunately, the consequences of not declaring modifications can be severe. Should a driver be involved in an accident and modifications are found on their car which had not been declared, their insurance is likely to be invalidated.
This could not only leave the driver severely out of pocket but also open to the possibility of being prosecuted for fraud. Furthermore, should the insurance company refuse to honour a claim and the driver wants to purchase insurance in the future, other insurance providers will be wary of selling them insurance.
Andrew Goulborn, Commercial Director of Tiger.co.uk, commented, "Finding a cheap modified car insurance quote will always be difficult but it is not impossible, especially if you use a website like Tiger.co.uk to compare car insurance prices. Whilst ignoring your modifications when filling out a car insurance form could be tempting, we urge drivers to be honest - and if the insurance is going to be too expensive it might even be worth having the modification removed. Having an insurance company refuse to pay out on a claim can cause serious problems for drivers. Not only could they be forced to pay for any claim from their own pockets, but they could also be open for prosecution and may find it hard to get insurance in the future."
About Tiger.co.uk:
Tiger.co.uk is a trading name of Call Connection Ltd. Tiger.co.uk is a UK based, independent motor insurance comparison site, offering insurance quotes from over 150 motor insurance brands. Call Connection Ltd is authorised and regulated by the Financial Conduct Authority (FCA number 308374).