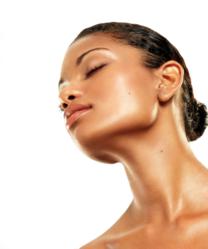 With Meso-CRF Décolleté we aim to offer a safe, pleasant, non-intrusive treatment to significantly improve the appearance of the area
London, UK (PRWEB) January 20, 2013
London skin firming clinic LipoTherapeia is launching Meso-CRF Décolleté, a skin firming, volume boosting treatment for the décolleté and neck area, based on radiofrequency and 12 skin firming / volumising natural actives.
With age the neck and décolleté areas become loose and wrinkled, due to the combined effects of smoking, unhealthy eating and the normal ageing process.
The best non-surgical skin firming technology is widely accepted to be radiofrequency, while several nutrients are well known to boost skin firmness, including Vitamin C, the herbal extract Centella Asiatica (Gotu Kola) and the aminoacid Hydroxyproline, while other nutrients such as Hyaluronic Acid, Kigelia extract and Isoleucine plump/volumise the skin.
Now these and several other skin firming/anti-ageing nutrients are combined with radiofrequency in one synergistic treatment specifically developed for the treatment of the décolleté area. The treatment helps firm, plump, lift and volumise the skin, diminishing wrinkles and providing an impressive rejuvenation effect.
LipoTherapeia has been specialising in skin tightening/anti-ageing treatments for 12 years and the new Meso-CRF Décolleté treatment is exclusively provided by experienced therapists with deep knowledge and expertise in radiofrequency and skin firming.
The first results are typically seen from the first session, and some women see great results in as few as 3-4 sessions, but for long-term, more ponounced results a course of 6-12 sessions are recommended. With some pectoral exercises, which help lift the décolleté area from underneath, the results can be pretty impressive.
LipoTherapeia clarify that this is a décolleté enhancing treatment, i.e. a treatment to improve the skin firmness and texture of the décolleté/neck area, not a breast augmentation/lifting treatment, for which surgery is recommended.
However, because of the skin tightening that occurs on the décolleté (top of the breast) area, some breast lifting may occur, but is not promised or guaranteed.
"Many women feel uncomfortable about the skin firmness and texture of the neck and décolleté areas, and with Meso-CRF Décolleté we aim to offer a safe, pleasant, non-intrusive treatment to significantly improve the appearance of the area and naturally help boost a woman's body image and confidence", states LipoTherapeia's director, Georgios Tzenichristos.
----------------------------
About LipoTherapeia
Meso-CRF Décolleté is exclusively available at LipoTherapeia, in Mayfair, London. Tel: +44 20 7047 1982. To email LipoTherapeia please fill the form at http://www.lipotherapeia.com/talk-to-the-expert.
Most women experience the first long-term results with Meso-CRF Décolleté in 3-4 sessions, with the best results typically achieved in 6-12 sessions, according to each individual's needs.
----------------------------
Disclaimer
However, nothing biological can be guaranteed by any treatment or any technology, surgical or non-surgical, including Meso-CRF Décolleté. For this reason LipoTherapeia cannot make specific guarantees about specific results after a specific number of sessions, as those not only depend on the effectiveness of the technology used but also on factors over which we have no control, such as the client's diet, exercise and drinking habits; her genetics; her overall health; the severity of her skin looseness/ageing; and her goals/expectations.
The guidance of 12 sessions for Meso-CRF Décolleté, is only indicative of the amount of sessions required and less or more sessions than 12 may be needed, depending on the factors mentioned above.