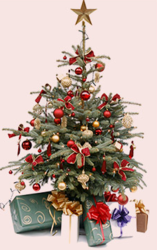 "This year we know that we have to offer that something extra to be noticed. Every year brings something new to add but we must never lose sight of the fact that what we offer is a quality of service that meets the customers expectations
(PRWEB UK) 19 October 2012
One London florist is determined not to be outshone this Christmas! Carrying forward previous success; Flowers24hours.co.uk will be selling a range of decorated Christmas trees that will lighten up many venues! The online florist is launching a new range of decorated Christmas trees which can be customised to make the time of year genuinely special.
Flowers24hours.co.uk is announcing its new collection and all the produce will be accessible from the convenience of customer's homes or offices. The florist offers personal guidance to help customers choose the perfect Christmas tree.
The service offers trees to be delivered and decorated by their floral experts, Flowers24hours.co.uk boasts to have diverse cultural backgrounds, with many of their staff drawn from other countries; this creates a fertile and creative atmosphere for developing striking displays for Christmas.
In these difficult times people are keeping an eye on value. Managing Director, Todd Z Todic, says "This year we know that we have to offer that something extra to be noticed. Every year brings something new to add but we must never lose sight of the fact that what we offer is a quality of service that meets the customer's expectations".
Flowers24hours.co.uk have consultants available to discuss a client's special requirements and state that 'no-one has to conform to something that does not excite them just a little!'
The florist has a large supply of christmas trees that come in a range of various sizes, They also have a wide range of gift packages complete with luxury ranges of chocolates, cheeses, seasonal fruits, toiletries, not forgetting various wines and even toys which can be ordered to bring some Christmas cheer to everyone!
As the cliché goes "The early bird catches the worm" Flowers24hours are bringing out an offer where the early purchaser catches the 10% discount. The florst states that purchasers can obtain a 10% discount by paying for their trees in November. They believe this will be particularly popular with those venues which go quiet earlier than most, they are wishing to spread a little bit of Christmas cheer arriving early can be most welcome!
About Flowers24hours.co.uk:
Flowers24hours.co.uk is an online London florist which offers same day flower delivery to London and next day delivery nationwide, the florist has a brimming online catalouge of flower arrangements and gifts, the gifts are catered to suit all occasions.