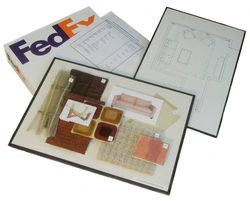 Our designers provide the professional decorating guidance and ideas people are looking for, at a fraction of typical interior designer fees.
Long Beach, CA (PRWEB) October 1, 2007
When decorating homes or apartments, most people can't afford to hire an onsite interior designer to guide them through the dizzying array of furniture, paint, fabric, window covering, flooring, and room layout choices. Luckily, DesignerAtHome.com provides an online interior design service that is within the reach of all homeowners and renters.
"Decorating a home can be a frustrating experience for the average person," said James Charles, founder and lead designer of DesignerAtHome.com. "Our designers provide the professional decorating guidance and ideas people are looking for, at a fraction of typical interior designer fees."
An award-winning interior designer with more than 25-years of experience, Charles founded DesignerAtHome.com in response to requests for affordable, high-quality home decorating services.
"Our streamlined process enables us to provide custom interior design plans at just $250 per room," Charles explained. "A client places an order on our website for the rooms he or she wants us to decorate, completes a short online questionnaire about each room's purpose and style, takes measurements and photos of the rooms and furniture, and sends everything to us. Our online how-to instructional videos guide the client through the process."
"Within three weeks of receiving all the information, we send the client a color board with custom paint, fabric, window covering, furniture, and flooring suggestions, space layout plans, and implementation instructions for each room that will work within any budget." Charles continued. "And we also give the client access to discounted designer fabrics not available to the general public."
DesignerAtHome.com designs master bedrooms, guest rooms, living rooms, family rooms, dens, nurseries, kid's rooms, teen's rooms, dining rooms and media rooms.
Multi-room discounts and gift certificates are available for all room design services.
For additional information on DesignerAtHome.com, contact Joan Yankowitz by phone at 714-744-1916, e-mail jbshort @ aol.com or visit DesignerAtHome.com.
About DesignerAtHome.com:
Founded by award-winning interior designer, James Charles, DesignerAtHome.com is an online service that provides its clients with professional home decorating services at just $250 per room.
About James Charles:
Born and raised in London, Mr. Charles apprenticed with Roche Bobois in the early 1980s, traveling to Paris and Milan to learn the art and trade of design while developing his own distinctive style. In the late 1980s, he opened Roche Bobois USA in Atlanta, and subsequently opened additional stores in several US cities.
While teaching at the Interior Design Institute (IDI) in Los Angeles in 1994, Mr. Charles opened his own successful design practice at James Charles Design, Inc.
Mr. Charles has received the British Interior Designer of the Year Award, placed first in the Beverly Hills Decorating Contest, and appeared on HGTV and E! Entertainment television shows. He has been published in many publications.
###