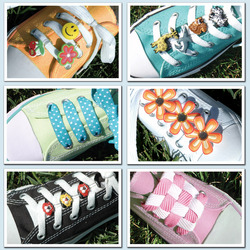 I am so thrilled that my sons can wear their Jibbitz on their sneakers now
Ann Arbor, MI (PRWEB) October 16, 2008
Last month, the North Schuylkill, PA school district became the latest in a long string of school districts in the US and abroad to consider banning flip-flops and other kid-popular fashions in the interest of student safety.
Parents now find themselves facing a battle on two fronts. While they encourage their children to make appropriate choices in footwear fashion, and acknowledge school safety issues surrounding trendy footwear like Crocs, Heelys, and flip-flops, they are faced with trying to convince those same kids to choose from a safer selection of that age-old stand-by: sneakers.
Sneakers, also known as tennis shoes in the U.S., and plimsolls in the U.K., are safe, practical, affordable, and provide excellent support. They've been around in various forms since the 1800's, but in many kid's minds, they just aren't a whole lot of fun. Much of the challenge for parents is how to get kids excited about wearing tennis shoes again after a summer of brightly colored rubber clogs and casual, carefree flip-flops.
Fortunately, in an age of constant innovation, options abound for kids to easily and inexpensively customize even the most plain-vanilla tennies. Shoelaces are now available in a wide variety of colors, patterns, and profiles, including neon, glow-in-the-dark, patterned, glittery, thick, thin, and curly.
Shoelace-specific websites have popped up in recent years highlighting unusual and creative shoe lacing patterns with such names as Checkerboard, Riding Boot, and Spider Web. The best and most-thorough of this bunch is the Australia-based website professorshoelace.com. Created by Ian Fieggen, aka Professor Shoelace, this shoelace fan site boasts a wonderful showcase of shoelace accessories, shoelace knot options, and plenty of photos of examples of unusual lacing patterns using a range of shoelace colors and sizes.
And two Michigan moms, tired of their children's insistence on wearing Crocs everywhere they went, tackled their problem with creativity and style. Business partners Terri Murray and Jennifer Mazur developed a clear adapter that allows the wearer to put the colorful, popular Jibbitz Crocs charms on shoelaces. Newly available in select retail stores and on the web at Flibbers.com, their invention, the Flibber, makes it easy to swap these charms out of summertime Crocs and onto school-time sneakers.
Flibbers are made of nearly indestructible polycarbonate, with an inconspicuous design that appeals to both boys and girls. At Murray's suggestion, Flibbers were kid-tested to ensure that they are durable, simple to install, and that shoelaces remain easy to adjust.
"I am so thrilled that my sons can wear their Jibbitz on their sneakers now," said Jennifer Beers, mother of two boys. "My youngest son wanted to wear his Crocs to school, which is no longer allowed. We had just purchased the Detroit Lions Jibbitz charms and he wanted to show his friends. Luckily, he had Flibbers on his tennis shoes. He quickly switched the Jibbitz from his Crocs to his sneakers and he was off to the school. We were both happy."
Despite both the practical and safety-related reasons their parents may insist on different footwear now that school is back in session, the customization options available to kids give them a legitimate fashion motivation to switch back to tennis shoes. With the right accessories and the right attitude, sneakers can be personalized just as colorfully and creatively as other kinds of footwear to be a unique reflection of the wearer's personality.
Flibbers and "Charm your Laces" are trademarks of Maisy and Mary, LLC. The Flibber is patents pending. Crocs, Jibbitz, and Heelys are trademarks of their respective owners, and are not affiliated with Maisy and Mary, LLC.
About Maisy and Mary, LLC:
Maisy and Mary, LLC is a Canton, Michigan company co-owned by Terri Murray and Jennifer Mazur. Maisy and Mary, LLC is the proud developer of the Flibber, the revolutionary shoelace charm clip, and would like to invite you to stay tuned for further developments!
# # #