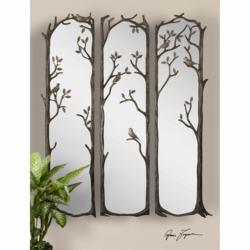 One of the most important things that an accent mirror can do that no other kind of wall hanging piece can is enhance levels of light in a room.
(PRWEB) October 21, 2012
HomeThangs.com – the Home Improvement Super Store has made their goal to deliver the right product to the consumer, with that in mind, shopping and home design tips, as well as special product selections are being introduced.
When it comes to interior decorating, accent mirrors can be a big asset. While there's a practically infinite selection of decorative pieces to hang on the walls – from prints and paintings to three dimensional artwork – accent mirrors offer a few unique advantages over traditional wall art that can really help bring a room to life. HomeThangs.com introduced a wide selection of accent mirrors as well as a tip sheet to help take advantage of that bare spot on a wall.
1. One of the most important things that an accent mirror can do that no other kind of wall hanging piece can is enhance levels of light in a room. Mirrors literally reflect light, both natural and artificial, helping to brighten and enhance the quality of light in any room. This is especially evident in rooms that are very dark, as mirrors will pick up any artificial light, and in rooms that have a lot of natural light, as the mirrors will seem especially bright and radiant and help open up the room. To maximize this effect, look for an accent mirror that has a fully mirrored surface would be a better option than a framed one.
2. The reflective quality of mirrors not only works to reflect light, but can also help to make a smaller space seem bigger. Larger accent mirrors work especially well, creating the illusion that a room extends farther in one direction than it really does. This look works especially well in closed entryways or dining areas that get a lot of light. Even small accent mirrors can do this to a slightly lesser extent, acting as a sort of peep-hole into what looks like another room, or just visually pushing out the walls when glimpsed out of the corner of an eye.
3. While paintings and other artwork (and their frames) come in a whole rainbow of colors, shades, and textures, that, if chosen carefully, can help unify the colors in a room, one thing they can't do is actually interact with the design. Because accent mirrors are reflective, not only do the frames enhance decor, but the mirror literally reflects it, making an accent mirror a living part of a room that's different from every angle.
4. While paintings should be carefully chosen to match carpet, upholstery, curtains, and other accessories, a frameless, shaped mirror won't ever look out of place, no matter how often the color scheme is changed, provided the basic design aesthetic stays more or less the same.
5. Mirrors work especially well in modern styled living spaces. The silvered glass inherently meshes with the industrial material and color theme of a modern decor. Additionally, many accent mirrors, like the Vance Geometric Mirror from Dimond Lighting for example, have gorgeous geometric designs that also jive with the simple, straight lines that exemplify the modern aesthetic.
6. Large, elaborate frames are common, and one can even often find accent mirrors that contain many multiple mirrors, like the Porterdale Mirror by Dimond Lighting for example, that use patterns of smaller shaped mirrors to help create the design, as well as to enhance the light and depth of the room.
That said, some accent mirrors don't even have frames. Instead, it's the detailing on the mirror itself that draws the eye. The Erhart Mirror by Dimond Lighting for example, is especially gorgeous, with fine, intricate detailing, smoothly carved edges, and tiny, lace-like holes around the edge of the mirror, which creates a decadent antique style accent mirror that creates its own frame.
7. Finally, installing a decorative accent mirror is frequently just outright functional. Having a mirror in a bedroom or hallway is a great way to give oneself the ability to dress in front of a mirror or check the scarf on the way out the door while adding a piece that's more interesting than a bulky floor mirror or a boring, plain dresser mirror.
HomeThangs.com is more than just a Home Improvement Superstore. They're constantly seeking to provide homeowners and designers with the right products at competitive prices. With a wide selection of products, expert design tips, and comprehensive shopping guides, Homethangs is a company that's there at all stages of the design process, from idea to execution. It's their goal is to make dream remodels doable.