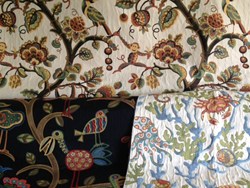 San Mateo, CA (PRWEB) August 08, 2013
Norman S. Bernie Co., with the finest decorative fabric inventory in Northern California, and serving the San Francisco Bay Area for over 55 years, is announcing the recent arrival of gorgeous new upholstery fabrics and drapery fabrics for customers looking to bring a new and beautiful look to living rooms, dining rooms, bedrooms, offices, restaurants, hotels, and more.
A major trend today is to use solid-colored natural fibered fabrics as well as upholstery fabrics with a tweed and/or textured look for large areas such as couches, sectionals, loveseats, and large chairs such as recliners, wingbacks, and club chairs. And to brighten up decors, customers are decorating with throw pillows using novelty and/or other colorful patterns.
Natural fibered fabrics having just been added or returning to Norman S. Bernie's extensive inventory are "Glynn Linen", 100% linen from Covington Fabrics; "Wilde", "Tyrone", and "Joyce", 100% Irish linen patterns from Moygashel;"Montego", 100% hemp with new colors from Diversitex; "Kendall", a hemp, cotton, and poly blend from Diversitex Fabrics; and "Merrimon Washed", a 100% cotton duck from Golding Fabrics.
And to brighten up these solids are brand new patterns and reordered favorites at Norman S. Bernie Co.'s warehouse: "Crab Walk", "Give a Hoot", "Monkeying Around", "Crazy Ol' Bird", and "Ooh La La", from Swavelle/Mill Creek Fabrics; and "Small Talk", "PomPom Play", "A Maze", and "Bohemian Swirl" from Waverly Textiles.
Fall is not far behind, and now is the perfect time to get the jump on holidays that will be here in the blink of an eye. So make a date now to visit Norman S. Bernie Co., home of the most extraordinary inventory of upholstery fabrics and drapery fabrics in the San Francisco Bay Area, at discounted prices, and take advantage of the most helpful, friendly, and expert customer service in the industry.