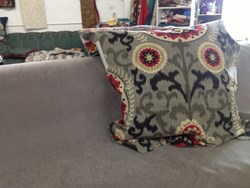 Decorative Fabric, Drapery Fabric, Upholstery Fabric all at Norman S. Bernies Co
San Mateo, CA (PRWEB) August 26, 2013
With the finest decorative fabric inventory in Northern California, Norman S. Bernie Co, serving the San Francisco Bay Area since 1957, always has strived to provide the greatest range of upholstery fabrics and drapery fabrics for their very discriminating customers. It is with that in mind that Norman S. Bernie Co. is constantly looking for more ways to serve their loyal customers. Ideally, with more decorative fabrics to choose from, customers have more options, and are better able to tailor these choices to their needs.
Norman S. Bernie Co. is announcing the arrival of beautiful new patterns for fall from trusted suppliers such as Waverly, P/Kaufmann, Diversitex, Golding, and more: "On Key: Navy", a stunning flat-woven geometric; "Inner Soul: Graphite", a striking printed suzani; "Webster: Oak", a warm chocolate brown jacquard chenille; "Marylin: Raven", a lush black a brown stripped velvet; and "Astro: Gravel", a durable and handsome stamped microfiber, to name just a few.
In addition to these recently delivered patterns, Norman S. Bernie Co. also has just received 100% cotton sanded twills and ducks in a variety of colors, and beautiful coordinates too many to list. And, of course, these are available immediately at unbelievably discounted prices.
As summer is ending, autumn and the holiday season approaches, so there is no better time to take advantage of the gorgeous and extensive inventory of exceptionally beautiful upholstery fabrics and curtain fabrics, and the expert and friendly staff, at Norman S. Bernie Co., the one-stop destination for decorative fabrics in the San Francisco Bay Area.