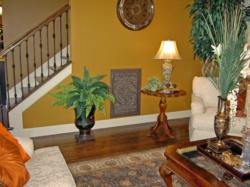 FancyVents remodel a room in 15 minutes with dramatic results.
Nashville, TN (PRWEB) June 07, 2011
Decorative air return vent covers from FancyVents, Inc., announces a quick and easy 15 minute room remodel. Installing a FancyVent enhances interior design adding custom handmade elegance and flair to the room.
The U.S. housing market changed dramatically post-World War II. As the Baby Boom Generation spurred demand for quickly built affordable housing, ubiquitous tract housing and cookie cutter subdivisions employed less and less architectural design elements. Subsequently, design took a back seat in favor of utilitarian function.
Today's homes require a more elegant approach to a commonly overlooked fixture in nearly every home – the cold air return vent. Builders typically opt for an inexpensive white louvered vent cover, which has become the generally accepted eyesore that the homeowner continually tries to camouflage.
This is not a new idea. Decorative return air grilles have been around since the introduction of centralized heating and air conditioning in the 19th Century and were once the norm. PBS Television's "Antiques Roadshow" recently featured a vent cover designed in 1890 by Tiffany and Company, which was appraised at $50,000.
Remodel a room in 15 minutes with dramatic results. Replacing old metal covers with a FancyVent is the easiest, quickest, least expensive room remodel.
(Re) Enter the FancyVent
Homeowners and Entrepreneurs Cindy Moore and Earl Tatom saw an opportunity to create a product that would not only hide or cover up a necessary mechanical fixture, but also enhance a homes décor.
Initially, demand was limited to Earl's wife, Cindy. After visiting a home show, Cindy was inspired to cover up the unappealing cold air return vent in their personal home. A skilled metalwork artisan, Earl went above and beyond a "Honey Do" to create the first "FancyVent", a beautiful decorative iron return air grill that quickly became a popular conversation piece for visitors to their home.
At the suggestion of friends and family, Cindy and Earl took a harder look at this opportunity and decided to move forward to develop this concept into a full-fledged business.
Of humble beginnings down in Earl's basement, Fancy Vents, Inc. was born. The company started by offering a few unique designs, all hand crafted personally by Earl. FancyVents are designed to be easily installed by a handy homeowner using common household tools.
As awareness grew, they received requests for more and more unique sizes and designs.
The company grew quickly and in 2008 FancyVents opened a dedicated design and fabrication studio near their home in Nashville, TN. Today, FancyVent's portfolio consists of more than 50 unique design combinations and sizes to meet nearly any requirement.
Their beautiful decorative vent covers have been very well received by builders, homeowners and designers and have recently been featured in publications and television shows, such as; Southern Living Magazine, Everything Knoxville, Brentwood Life, WTVF's Talk of the Town, WSMV's More at Midday, Williamson Real Estate, Williamson A.M..
Today, FancyVents ships all over the United States and world-wide. The entire portfolio can be viewed on their website at http://www.fancyvents.com.
About Fancy Vents, Inc.
Fancy Vents, Inc. is a privately owned design and manufacturing company founded
in 2008 by Cindy Moore and Earl Tatom to create custom ornamental cold air return vent covers that are easily installed into existing infrastructure.
###