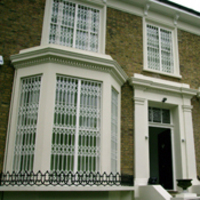 The One Stop Security Shop is there in one very simple and easy to use website
(PRWEB) January 28, 2010
2010 marks the launch of Décor Grille's new "Security Direct" web site. Much more comprehensive information, many more products in an ever expanding market but "simplified buying for the customer," was the brief given to Décor Grille's in house web designers.
Customer's requirements are catered for across probably the largest "Physical Security" product range from Door Security, Window Security, Security Grilles, through Roller Shutters, to protection of portable items such as Computers, Laptops and Servers and even Garden Shed security.
The one stop shop is there in one very simple and easy to use web site.
For Professional's requiring technical information and installation guidance, dimensions etc, the prospective buyer has the facility of looking at all this through a series of illustrated buttons on the web page. If your proficiency on websites is as a beginner then Security Directs unique pictorial gallery is an easy way to select the right product to suit your particular needs and site requirements.
Pricing guides have not been forgotten either, each page has an easy to use pricing matrix covering the products selected on view. The new website has made choosing the right products and information so very easy and as they say; product selection is now only a very simple click away.
###