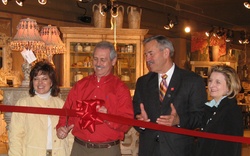 We are using our Dallas showroom to preview exclusive product lines to large retailers
SPRINGFIELD, Mo. (PRWEB) January 21, 2008
"We are using our Dallas showroom to preview exclusive product lines to large retailers," noted Mr. Crowder. "Within the showroom space, customers are immersed in what we call the 'Decorize Experience.' Various vignettes of furniture and accessories make it easy for retailers to select products by style and color. Focusing on our customers, Decorize's first-rate in-house design team has organized the showroom so retailers can visualize the presentation of our trendsetting items in their own stores."
The Dallas Total Home & Gift Market runs through January 22. The Dallas Market Center is the world's largest wholesale merchandise source. Its marketplace of more than five million square feet is home to 50 markets each year which are attended by 200,000-plus retail buyers from all 50 states and 84 countries.
"We are thrilled to have an industry leader such as Decorize/GuildMaster open a beautiful showroom featuring the largest product selection ever shown in Dallas," said Mindy Lowack, Leasing Director for the Dallas Market Center. "Their presence further enhances our Total Home Marketplace."
About Decorize
Decorize, Inc. specializes in designing, manufacturing and delivering the finest premium home accents directly from its production facilities in Indonesia and China to retailers across the U.S. The company has developed a vertically integrated design, sourcing and logistics model that reduces costs traditionally channeled into home furnishings. This model allows the company to remain on the leading edge of the market by identifying trends and developing product significantly faster than others. Because of its vertical integration, Decorize is able to serve its customers with shortened delivery times for custom orders. Decorize serves more than 3,000 retail accounts, including national brand names such as Stein Mart, Broyhill Furniture Industries, OfficeMax, Home Depot, May/Federated Stores, Neiman Marcus, Rooms To Go, and Sears-The Great Indoors. For more information, visit the Decorize web site at http://www.decorize.com.
Safe Harbor
Safe Harbor Statement under the Private Securities Litigation Reform Act of 1995: Statements about the future performance of Decorize, economic trends, and other forward-looking statements in this release are made pursuant to the "safe harbor" provisions of the Private Securities Litigation Reform Act of 1995. Investors are cautioned that such forward-looking statements involve risks and uncertainties, including and without limitation, continued acceptance of Decorize's products, increased levels of competition for the company, new products and technological changes, Decorize's dependence on third-party suppliers, and other risks detailed from time to time in Decorize's periodic reports filed with the Securities and Exchange Commission. Decorize provides no assurance regarding the actual outcome of the events contemplated by any forward-looking statements included in this release.
KEYWORDS: furniture interior design accessories home accents imports Far East production home furnishings retailers premium accents