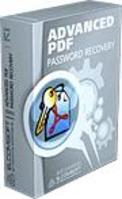 Moscow, Russia (PRWEB) October 18, 2007
ElcomSoft Co.Ltd. has released v. 4.0 of the Enterprise version of its award-winning Advanced PDF Password Recovery software. This program makes it easy to remove both password encryption and usage restrictions from Adobe Acrobat PDF files. APDFPR Enterprise supports all Adobe Acrobat versions (up to 8.0), including those that use AES encryption, and super-fast guaranteed recovery of PDF files with 40-bit encryption using state-of-the-art "time-memory trade-off" techniques.
ElcomSoft has introduced new technology that ensures that all 40-bit encryption keys can be unlocked in minutes. Using the old-fashioned "brute force" technique, PDF files could be opened in four to five days. Earlier this year, ElcomSoft introduced a revolutionary "rainbow attack" subsystem. This "rainbow attack" system unlocked an estimated 99.9 percent of locked PDF files. Version 4 of Advanced PDF Password Recovery software, with its new "thunder tables" (TM) technology (patent pending), raises the success rate from 99.9 to 100 percent of locked PDF files. While the additional .001 may not seem like a huge change, it adds certainty to the process, a critical factor for business managers and law enforcement officials.
ElcomSoft's "thunder tables" technology involes pre-computing the decryption information that the software uses to unlock passwords. 40-bit encryption allows more than one trillion (two to the 40th power) possible keys. ElcomSoft's new thunder tables technology ensures that all of these possibilities can be created from its pre-computed tables. The latest version of Advanced PDF Password Recovery software ships with a DVD that contains four gigabytes of pre-computed hash tables that will allow you to decrypt all PDF files in just minutes instead of days, even on slower computers. The DVD data can be read on any standard DVD drive, or moved to a flash drive.
Using a modern business computer, ElcomSoft tested its thunder tables technology on 10,000 PDF files with randomly-created passwords. The success rate was, of course, 100 percent. The average time to unlock a file was less than 30 seconds, with times ranging from a few seconds to nearly 15 minutes.
With the increasing popularity of PDF formatted file, comes an increasing number of problems which occur when authors forget the passwords to their source documents. All three editions of its Advanced PDF Password Recovery software (Enterprise, Professional, and Standard) perform the seemingly impossible recovery of passwords for these documents. This software handles both owner and user passwords used to protect PDF documents. Business managers can recover lost and destroyed passwords. It also helps in dealing with employees who, intentionally or unintentionally, are unable to edit and print password-protected PDF files.
Advanced PDF Password Recovery adds a new level of certainty to law enforcement, military, and intelligence agencies who need a forensics tool that is certain to open secure documents, quickly and efficiently. PDF documents protected with access restriction passwords can be decrypted instantly, allowing full access to the document. For documents with "user" passwords (that could not be opened without that password), the Enterprise Edition's strengthened technology ensures success in minutes.
APDFPR 4.0 also adds PDF content management features. Without using a PDF editor such as Adobe Acrobat, you can remove some elements from PDF files, such as forms, JScript code, and digital signatures.
Advanced PDF Password Recovery Enterprise costs $999(US) for a single-user license and includes express delivery worldwide. Professional and Standard versions, with reduced feature sets, are available at affordable prices. The program runs under Windows 2003/Vista/XP/2000. For more information, please visit http://pdf.elcomsoft.com. Evaluation Copy Available on Request.
About ElcomSoft Co.Ltd.:
Established in 1990, ElcomSoft Co.Ltd. provides state-of-the-art computer forensics tool development, computer forensics training, and computer evidence consulting services. Since 1997, ElcomSoft has been providing support to businesses, law enforcement, military, and intelligence agencies. ElcomSoft tools are used by most of the Fortune 500 corporations, many branches of the military all over the world, many foreign governments, and all major accounting firms. ElcomSoft and its officers are members of the Russian Cryptology Association and the Microsoft Business Connection program. ElcomSoft is a Microsoft Gold Certified Partner and Intel Software Partner.
###