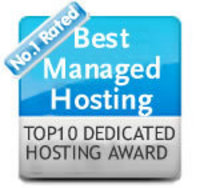 We are thrilled to be recognized for the accomplishments in providing Firewall protected 100% fully managed VPS with 100% Uptime for the Network and 24/7/365 live monitoring
San Francisco, CA (PRWEB) February 26, 2009
Top10DedicatedHosting today announced the most awaited Dedicated Hosting Awards. The award for Best Managed Hosting was garnered by DedicatedNow, the award for Best Dedicated Server was secured by eSecureData. WebIntellects was named as best VPS Hosting provider.
The Best Dedicated Hosting Awards are presented to the companies that led the industry and are based on the overall service quality, product offering, technological innovation, package diversity, value, customer support and users reviews and overall performance. These are the companies to look at in 2009.
"This award not only highlights DedicatedNow's growth and well-earned reputation for quality, but also continued emergence as a leader in the Managed Hosting and Managed Service industry," said Mr. Shelton Walker, Managing Director, Top10DedicatedHosting. Since 2003, DedicatedNOW has led the dedicated hosting industry by providing comprehensive management of Dedicated Servers. With an emphasis on customized solutions and adaptive customer support, DedicatedNOW leverages its partnerships and redundant network to provide unparalleled performance for its customers. DedicatedNOW plans the release of several new hosting products and services during the second quarter this year.
Mr. Reg Natarajan, President and CEO for eSecureData remarked, "eSecureData.com is delighted to learn of our selection as the Best Dedicated Server Provider of 2009. We have always striven to exceed expectations and continue to lead with new initiatives such as unmetered bandwidth and online server management systems. This promises to be an exciting year for eSecureData.com as we continue to innovate in the areas of online systems for server management, site management, traffic management and bulletproof, redundant network systems. It's nice to see that our efforts have been noticed by Top10DedicatedHosting.com".
Recently, eSecureData was also awarded Best Dedicated Server January 2009 award by DedicatedServerDir.
"We are thrilled to be recognized for the accomplishments in providing Firewall protected 100% fully managed VPS with 100% Uptime for the Network and 24/7/365 live monitoring ," said Leonard Geiger, the President & CEO of WebIntellects. WebIntellects has been offering VPS Hosting since 2000, longer then almost every provider with 8 diverse bandwidth providers and N 2 configurations on all key datacenter equipment.
To learn more about Top10DedicatedHosting's awards, please visit: Dedicated Web Hosting Awards Section.
About TOP 10 DEDICATED HOSTING
Top 10 Dedicated Hosting is a team of highly skilled professionals focused on providing Dedicated Web Server Reviews to Clients, Consultancy and Training to End Users. We provide Expertise and Experience to: help the business grow, reduce the overall costs, and simplify the Web environment. Dedicated Web Hosting is committed to delivering results that endure.
# # #