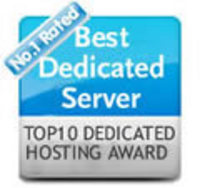 This award highlights Online Tech's stellar growth and reputation of delivering quality hosting solutions over the last 15 years.
Los Angeles, CA (PRWEB) September 21, 2009
The influential Dedicated Web Hosting Review site, Top10DedicatedHosting.com today announced the much awaited Dedicated Server Hosting award winners. Top positions were garnered by DedicatedNOW, eSecureData, NETRACKservers and Online Tech.
The key criteria's that factored into Top10DedicatedHosting's decision to select the award winners were company's global footprint, technology, support professionals, scalability, pricing, uptime, corporate history, reliability, overall performance, and value proposition to the business sector.
DedicatedNOW is very excited and honored to receive this award after extensive testing and review by Top10DedicatedHosting.com," said Josh Ewin, Director of Sales & Marketing at DedicatedNOW.com. Our new plans are designed for companies that need high performance managed servers and scalable solutions that fit today's corporate budgets. The response to this approach has been phenomenal - we've sold out of these servers once already and have restocked our datacenter with a fresh supply.
"With enterprise class reliability and performance DedicatedNOW's Managed Hosting division has provided cost effective solutions since 2003. The Company has exceeded industry level standards of management and support," said Mr. Shelton Walker, Managing Director, Top10DedicatedHosting.com. This award highlights DedicatedNOW's growth and committed to excellence and continued emergence as a leader in the Managed Hosting industry, specifically with respect to high availability and 100% uptime solutions.
eSecureData.com is delighted learn of our selection as the Best Dedicated Hosting Provider of 2009. We have always striven to exceed expectations and continue to lead with new initiatives such as unmetered bandwidth and online server management systems. This promises to be an exciting year for eSecureData.com as we continue to innovate in the areas of online systems for server management, site management, traffic management and bulletproof, redundant network systems. It's nice to see that our efforts have been noticed by Top10DedicatedHosting.com.
eSecureData's Servers are the most powerful servers in the dedicated server industry with powerhouse Intel Quad Core processors with hardware RAID and unmetered 100 mbps ports on an advanced all-Cisco QoS-maintained backbone.
Mr. Brain McCollum, Director of Top10DedicatedHosting, commented, "We're very pleased to award NETRACKservers with this high level of recognition after a lengthy period of testing. Their features and performance were unmatched. The results shown by NETRACKservers were beyond industry standards."
Online Tech is a premier Managed Data Center Operator in the Midwestern United States with 15 years of expertise delivering outstanding products and service levels. Online Tech, offers full range of managed colocation, dedicated server hosting and managed servers for clients from around the world. Online Tech has won dozens of awards and has SAS-70 certified servers which have been specifically noted by Top10DedicatedHosting.
"This award highlights Online Tech's stellar growth and reputation of delivering quality hosting solutions over the last 15 years. "said Mike Klein, President and COO of Online Tech. Online Tech's investment in SAS-70 certification over the last 2 years and its reputation of proactive customer support has propelled Online Tech into a leadership position for enterprise managed servers. Online Tech is the only award winner delivering SAS-70 audited managed servers and managed colocation hosting.
If you are intrested in Virtual Private Servers, Check the Top VPS Hosting Providers. For Cloud Hosting, check the Top Cloud Computing Companies
# # #