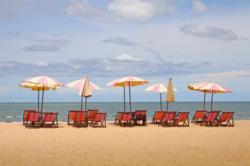 Hawaii Timeshare title change for trusts, divorce and gifting
Irvine, California (PRWEB) May 20, 2012
Californians with timeshares in Hawaii often need to change how title is held for the following reasons.
1. divorce
2. fund a trust
3. transfer to heirs or beneficiaries out of trust
4. add or remove co-owners
Complete service is provided at Deed and Record
1. Quit claim deed is prepared with legal description and cover page as required by the Bureau of Conveyances
2. Form P-64B is prepared to obtain an exemption from conveyance taxes
3. Cover sheet is prepared to decertify timeshares recorded in the Land Court.
4. Record the quit claim deed with Hawaii's Bureau of Conveyances
5. Provide written confirmation of recording from the Bureau
For more information, call 949-474-0961 or email Mark(at)DeedandRecord(dot)com
Divorce
A timeshare is awarded to one spouse pursuant to a court order from either a litigated judgment or marital settlement agreement in California. Transfer of ownership is not complete until actual title of ownership is filed and recorded with the Bureau of Conveyances. Transfer is done by quit claim deed also known as inter-spousal transfer deed.
Funding Trusts
Californians create living trusts to avoid probate, minimize estate taxes, and prevent familial problems associated with not having a trust. Often timeshares are omitted from estate plans due to their low value compared to other real estate and the complexity of changing title. Timeshares not in a trust are at risk for probate.
Post Death Trust Administration
Real property held in trust by a person who has died can be transferred as directed in the trust without going through probate. The transfer of real estate property out of a trust from a person who has died requires the Successor Trustee to prepare and file an Affidavit Death of Trustee and a quit claim deed out of the trust to the living heirs.
Company Profile
Deed and Record is an online service to prepare quit claim deeds for Hawaii Timeshares for transfers into or out of trusts, remove former spouses and add or remove co-owners. The Company records deeds it has prepared with the appropriate government agency. Deed and Record does not offer legal advice or services.
The Company markets through websites, primarily htttp://DeedandRecord.com The owner of the websites is Mark W. Bidwell, Attorney at Law and CPA Inactive. The office is located at 18831 Von Karman Avenue, Suite 270, Irvine, California 92612. Phone number is 949-474-0961. Email is Mark(at)DeedandRecord(dot)com.