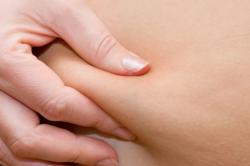 Deep Tissue Radiofrequency™ treatment focuses on the deeper skin structures and thereby affects fat and deep collagen tissue for a skin tightening, localised slimming and smoothening effect
London, UK (PRWEB) May 30, 2013
LipoTherapeia, the London specialist cellulite clinic, is now offering Deep Tissue Radiofrequency™, which unlike most radiofrequency treatments, acts in the deeper layers of the skin, where fat cells, large collagen structures and collagen cells are located, to treat cellulite, skin looseness and local fat.
Radiofrequency is the most effective skin tightening technology and can also help with the reduction of fat and cellulite. However, most radiofrequency treatments were designed for superficial skin treatment in order to affect wrinkles and provide rejuvenation and tightening on the epidermis.
However, this focus on superficial treatment means that the deep skin tissues are not treated properly. Bipolar radiofrequency treatments for example are too superficial to significantly affect fat and cellulite and deeper skin structures. The same applies to "capacitive" radiofrequency treatments, which are also very superficial.
The focus on superficial treatment is also responsible for the pain, excessive redness and other irritation experienced with most radiofrequency treatments and actually defies the purpose for which radiofrequency technology was develop, which is to treat deeper tissues without affecting the superficial ones.
In contrast, Deep Tissue Radiofrequency™ treatment does focus on the deeper skin structures, and as a result affects fat and deep collagen tissue for a skin tightening, localised slimming and smoothening effect without the pain, redness and irritation associated with superficial treatment.
Unlike many types of RF treatment, Deep Tissue Radiofrequency™ treatments are not painful (pain is not necessary to produce good results) and are always within the comfort zone of the client. Furthermore, there is zero downtime and treatments can be received up to 3 times per week, ideal for people on holidays in London or for a last-minute treatment course before going to the beach.
At the LipoTherapeia clinic, Deep Tissue Radiofrequency™ treatment is also simultaneously combined with cavitation and electro-mesotherapy (the combined treatment is known as Meso-CRF®). The 15 active ingredients contained in the electro-mesotherapy cream applied during treatment and the ultrasound waves from the cavitation enhance the effects of Deep Tissue Radiofrequency™ and provide faster results and at a lower cost. In addition, if necessary, Meso-CRF® treatment can also be tuned to affect superficial tissues, for wrinkle reduction, superficial skin tightening and superficial skin rejuvenation.
With Meso-CRF® most clients experience the first long-term results in 3-4 sessions. Six to twelve sessions are needed for satisfactory results on both the body (cellulite/local fat reduction and skin firming) and the face (skin firming and optional local fat removal).
"We worked really hard to develop a deep skin treatment in order to eliminate excessive skin redness and irritation, which are responsible for the downtime and poor client compliance of the usual radiofrequency treatment and we are happy that we can provide a comfortable, pain-free treatment that is effective without affecting the busy daily life of our clients. In the last three years we have already provided 2000+ Deep Tissue Radiofrequency™ on the body and face, which ensures that our clients benefit from our expertise and experience", LipoTherapeia's director, Georgios Tzenichristos explains"
LipoTherapeia treatments are exclusively available at the Hale Clinic, located near Harley Street and Regents Park in central London. Bookings can be made at lipotherapeia.com/book or on 020 7047 1982.
Disclaimer
> Deep tissue radiofrequency treatments are very safe. However, any treatment (even such simple treatments as massages) may produce undesirable side effects, depending on the reaction of each individual body to the treatment (no treatment is 100% safe). With DTR though, burns, excessive redness and other skin irritation are very rare and treatment is always pain-free (there is no need for treatment to be painful in order to be effective).
> Meso-CRF offers impressive results in comparison to the majority of radiofrequency, cavitation and needle-free mesotherapy treatments, because it simultaneously combines these three techniques, also saving you time and money (a course of 6x Meso-CRF sessions is equivalent to 18x stand-alone RF, cavitation and mesotherapy treatments). These results occur when the treatment is combined with diet, exercise and smoking/alcohol avoidance.
> However, nothing biological can be guaranteed by any treatment or any technology, surgical or non-surgical, including Meso-CRF. For this reason LipoTherapeia cannot make specific guarantees about specific results after a specific number of sessions, as those not only depend on the effectiveness of the technology used but also on factors over which we have no control, such as the client's diet, exercise and drinking habits; her genetics; her overall health; the severity of her cellulite/skin looseness/fat accumulation; and her goals/expectations.
> The guidance of 12 sessions for Meso-CRF Advanced Protocol, is only indicative of the amount of sessions required and less or more sessions than 12 may be needed, depending on the factors mentioned above.