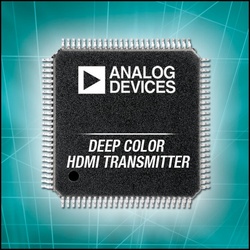 The ADV7510 enables proven, high-performance audio/visual equipment with 12-bit Deep Color operation and 1080p connectivity – all in a high-performance, single-chip solution that lowers development and manufacturing cost.
NORWOOD, Mass. (PRWEB) December 15, 2008
"CEC is now a must-have feature for today's entertainment systems. By eliminating the external CEC microcontroller, the ADV7510 lets designers deliver proven, high-performance AV equipment without the additional field testing normally required to ensure compatibility," said Bill Bucklen, director, Advanced Television Segment, Analog Devices. "The ADV7510 enables proven, high-performance audio/visual equipment with 12-bit Deep Color operation and 1080p connectivity – all in a high-performance, single-chip solution that lowers development and manufacturing cost."
Deep Color Enhances HDTV Video Image Quality
The ADV7510 is the industry's first transmitter with integrated CEC to incorporate HDMI's Deep Color capability into HDTV (high-definition television) designs with resolutions up to 1080p. Deep Color increases the number of colors that can be displayed on video devices, allowing millions of distinct colors to be displayed. This allows gradual changes in hue or brightness across a picture appear smoother and more lifelike. By increasing the color depth from 8 to 12 bits per color, the ADV7510's Deep Color performance dramatically enhances color vividness and accuracy of video delivery and display. The new HDMI transmitter also supports x.v.Color, which increases the range of available colors to render the most realistic images possible when playing digital video content.
Enhanced Features Ease System Design
Supported by ADI's integrated CEC controller and software driver, the ADV7510 ensures seamless connectivity between the system and multiple audio and video components that support the HDMI standard. With the inclusion of on-chip HDCP (high-bandwidth digital content protection) processing, the ADV7510 implements the functions of HDMI repeater applications that prevent unauthorized recording, ensuring HDCP authentication without delay. The ADV7510 helps further reduce system cost by incorporating features such as an I2C (inter-integrated circuit) master for EDID (extended display identification data) reading and 5-V tolerant I/Os that support I2C and HPD (Hot Plug Detect).
Support for the Leading Connectivity and Audio Standards
The ADV7510 supports S/PDIF (Sony/Philips Digital Interface Format) for LPCM (linear pulse code modulation) or compressed audio including Dolby® Digital, DTS® and THX®. With eight-channel I2S audio support, the ADV7510 enables either stereo or 7.1-channel surround sound audio up to 768 kHz. In addition, up to eight channels of DSD (direct stream digital) audio are available to support the latest high-definition audio standards.
The ADV7510 is compatible with other Analog Devices components in the advanced TV signal chain, including the ADV7441A HMDI receiver with 10-bit integrated, multi-format SDTV (standard-definition television) video decoder; SD/HD analog component video digitizer and two-input HDMI receiver; ADV7390–93 video encoders as well as AD8190/1/2/5/6/7A/7B HDMI/DVI switches and buffers with equalized inputs.
Availability and Pricing
The ADV7510 Deep Color HDMI transmitter is available now in production quantities. The ADV7510 is fabricated on an advanced CMOS process and is available in a 14-mm × 14-mm 100-lead LQFP (lead-frame chip-scale package) package. It is specified over the –25 degrees C to +85 degrees C temperature range. The ADV7510 is priced at $7.59 per unit in 1,000-piece quantities. For more information, please visit http://www.analog.com/pr/ADV7510.
ADI's HDMI Pre-Testing Labs
Conveniently located in Tokyo, Japan; Beijing, China; Taipei, Taiwan; and Greensboro, North Carolina, USA; customers can make use of Analog Devices' HDMI pre-testing labs to evaluate their equipment performance prior to submission to HDMI Compliance Testing. ADI offers these local HDMI pre-testing labs to help customers reduce time-to-market and testing costs by ensuring all HDMI Compliance Test Specification requirements are met. ADI's HDMI technologies are validated through successful compliance testing at authorized HDMI Compliance test centers.
ADI's Advantiv® Advanced Television Solutions Portfolio
Analog Devices' Advantiv advanced television solutions are used in the world's leading consumer electronics brands, enabling the true-to-life audio and video quality discriminating consumers have come to expect everywhere, every time. Supported by ADI's system-level experts, ADI's Advantiv advanced television solutions drive many of today's high-definition system components, including HDTVs, Blu-ray disc players, DVRs, AVRs, digital still cameras (DSCs), camcorders, and the HD interconnects that carry content among them. The broad range of Advantiv advanced television solutions enable high-performance functionality and features to meet all consumer electronics price points. For more information on ADI's Advantiv advanced television solutions portfolio, visit http//http://www.analog.com/pr/advantiv.
About Analog Devices
Innovation, performance, and excellence are the cultural pillars on which Analog Devices has built one of the longest standing, highest growth companies within the technology sector. Acknowledged industry-wide as the world leader in data conversion and signal conditioning technology, Analog Devices serves over 60,000 customers, representing virtually all types of electronic equipment. Celebrating over 40 years as a leading global manufacturer of high-performance integrated circuits used in analog and digital signal processing applications, Analog Devices is headquartered in Norwood, Massachusetts, with design and manufacturing facilities throughout the world. Analog Devices' common stock is listed on the New York Stock Exchange under the ticker "ADI" and is included in the S&P 500 Index. http://www.analog.com.
Advantiv is a registered trademark of Analog Devices, Inc. All other trademarks are the property of their respective owners.
For more information on ADI's most recent product releases, visit our Press Release home page.
MULTIMEDIA GALLERY http://www.businesswire.com/cgi-bin/mmg.cgi?eid=5853018