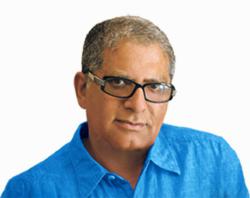 'It is a fundamental human need to have a sense of purpose . . . . so we have created this Seduction of Spirit retreat to help people discover their unique talents and use them to create more peace, healing, and joy in the world,' said Deepak Chopra.
San Diego, California (PRWEB) July 28, 2012
This October 29–November 4 at the Chopra Center's Seduction of Spirit meditation and yoga retreat, best-selling authors and leading inspirational teachers, Deepak Chopra and Marianne Williamson, will help participants move beyond old limiting beliefs, confusion, and fear – and uncover their passion and purpose in life.
"We're living in an unprecedented time of global transformation that offer so much potential for positive change, yet leaves many people feeling uncertain and unsure of how they fit into the bigger picture," said Deepak Chopra.
"It is a fundamental human need to have a sense of purpose and to be able to use our unique gifts and talents to serve ourselves, our family, our community, and the planet.
"For this reason, we have dedicated the upcoming Seduction of Spirit retreat to the theme 'Discover Your True Life's Purpose.'
"We will be sharing specific tools and practices for waking up to who we really are and what we are here to be and do in our inner and outer lives," Deepak Chopra said.
Seduction of Spirit will take place at the Chopra Center's location at La Costa Resort and Spa in Carlsbad, California. Register by July 31, 2012, to receive special pricing. Call 888.736.6895 or learn more here.
At Seduction of Spirit, participants will experience:

Deepak Chopra's Seven Spiritual Laws of Success: Explore your unique gifts and talents and learn how to use them to serve yourself and others
Instruction in Primordial Sound Meditation taught by the Chopra Center master educators: Cultivate your creativity, inner stillness, and wellbeing - even in the midst of chaos
An enlightening session with world-renowned author and teacher Marianne Williamson exploring purpose and passion
Yoga and other mindfulness practices to help reduce stress, sleep better, and calm your mind
Mantras for Manifestation: Gifted teacher and musician Steve Gold will guide you in creating a personal mantra for manifesting a meaningful and intentional life
An opportunity to connect with like-minded individuals from all around the world
An advanced sutra meditation practice taught only by Deepak Chopra at Seduction of Spirit
"I am excited that my friend and long-time colleague Marianne Williamson will be a special guest teacher at this Seduction of Spirit," said Deepak Chopra. "Marianne is a gifted teacher, best-selling author, and true leader who for many decades has inspired countless people to connect to their deepest purpose and bring more peace, compassion, and healing into the world."
For more information or to register for Seduction of Spirit, call 888.736.6895, or visit http://www.chopra.com/seduction/discover#
About the Chopra Center for Wellbeing
The Chopra Center for Wellbeing was founded by Deepak Chopra, M.D. and David Simon, M.D. in 1996. Located in Carlsbad, California, the Center offers a wide variety of programs, retreats, and teacher training programs that integrate the healing arts of the East with the best in modern Western medicine. The Chopra Center has helped millions of people around the world find peace of mind, physical balance, and emotional healing. The website http://www.chopra.com is your starting point on the path to wellness.
About Deepak Chopra, M.D., F.A.C.P.
Founder of the Chopra Center for Wellbeing
Deepak Chopra, M.D. is the author of more than 65 books, including numerous New York Times bestsellers. His medical training is in internal medicine and endocrinology, and he is a Fellow of the American College of Physicians, a member of the American Association of Clinical Endocrinologists, and an adjunct professor of Executive Programs at the Kellogg School of Management at Northwestern University. He is also a Distinguished Executive Scholar at Columbia Business School, Columbia University, and a Senior Scientist at the Gallup organization.
For more than a decade, he has participated as a lecturer at the Update in Internal Medicine, an annual event sponsored by Harvard Medical School's Department of Continuing Education and the Department of Medicine, Beth Israel Deaconess Medical Center.
"Deepak Chopra has successfully blended ancient Vedanta Philosophy with his unique perspective on modern medicine to provide a vast audience with solutions that meet many needs for our modern age. He is among the influential scholars, authors, and thinkers like Arthur Schopenhauer, Carl Jung, and Aldous Huxley who have found truth in the Perennial Philosophy and developed ways to help people apply that truth to their daily lives." ~Huston Smith
About Marianne Williamson
Marianne Williamson is an internationally acclaimed spiritual teacher and author. Six of her ten published books have been New York Times bestsellers. Four of these have been #1 New York Times bestsellers. A Return to Love is considered a must-read in the spirituality genre. A paragraph from that book, beginning "Our deepest fear is not that we are inadequate. Our deepest fear is that we are powerful beyond measure . . ." – often misattributed to Nelson Mandela's inaugural address – is considered an anthem for a contemporary generation of seekers.
Marianne's latest New York Times bestseller is A Course in Weight Loss: 21 Spiritual Lessons for Surrendering Your Weight Forever. A Course in Weight Loss was selected by Oprah Winfrey as one of her Favorite Things in 2010.
Marianne Williamson has shared the gifts of meditation and prayer with thousands of people throughout the world. She is the founder of Project Angel Food, a meals-on-wheels program that serves homebound people with AIDS in the Los Angeles area. Project Angel Food serves more than 1,000 people daily. Her best-selling books and audio programs include Meditations for a Miraculous Life, Meditations for Weight Loss, A Return to Love, and The Gift of Change. She and Deepak Chopra are the co-authors (with Debbie Ford) of the popular book The Shadow Effect.
Marianne's other books include The Age of Miracles, Everyday Grace, A Woman's Worth, Illuminata, Healing the Soul of America, and The Gift of Change.
For press inquiries and images, please contact:
Kathy Bankerd
Chopra Center Marketing Director
(760) 494-1609
http://www.chopra.com