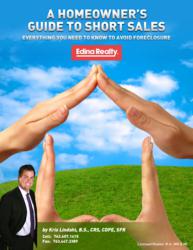 Kris Lindahl explains, "The documents that homeowners are going to need for a Wells Fargo short sale, are their last 2 bank statements, their last 2 pay stubs, their last 2 years of..."
Deephaven, MN. (PRWEB) September 15, 2012
Kris Lindahl, a top Deephaven short sale agent says, "Unlike many people that are trying to make money on every aspect of the current real estate situation, I am trying to help people get their short sale questions answered so they can determine if a short sale is the right option for their situation." Kris Lindahl continues, "that is why I am producing this Short Sale Video Collection, that provides valuable information on how the different banks handle a short sale process, along with videos that explain the differences in some type of mortgages, and their short sale process."
Deephaven Short Sale Agent Kris Lindahl explains, "that the way the Wells Fargo short sale process works, depends on the type of loan. For example, if Wells Fargo is the servicer on the loan, the investor could be Fannie Mae, Freddie Mac, FHA, or the VA. Since there could be different investors on the loan, and depending upon which investor is involved, the process is different."
"With a standard Freddie Mac, or Fannie Mae conventional loan the entire short sale is negotiated on a website called Equator.com." The Equator.com website is a complete solution website for Default Servicing, which Improves efficiency while enabling compliance with regulatory requirements and internal policies, using Equator's proven solutions.
"As far as a FHA short sale with Wells Fargo is handled," Kris Lindahl explains, "the short sales are negotiated out of their Milwaukee office. Short sales are done by the traditional fashion, communicated with the negotiator by phone, or email." Kris Lindahl says, "the same with the VA, short sales are handled from the Des Moines or Milwaukee office."
"VA loans have their own set of documents," Kris Lindahl explains, "plus there are different things within each of the investor specific documents that will change how the short sale process works." Kris Lindahl adds, "with a traditional type of short sale, all of the approval letters come through the web site Equator.com, or they go through a secure messaging system."
Kris Lindahl explains, "The documents that homeowners are going to need for a Wells Fargo short sale, are their last 2 bank statements, their last 2 pay stubs, their last 2 years of tax returns, W2's, and some Wells Fargo addendums, and an Arms Length Affidavit. Plus, depending upon who the investor is, there are investor specific documents. Like HUD, which is an FHA loan," Kris Lindahl says "has what is called an Approval to Participate document, which gives the value of what the bank wants to sell the property for. So the homeowner has to agree to the Approval to Participate document, even before they get the approval on the short sale."
Kris Lindahl says, "My experience with Wells Fargo has always been that they are a great bank to work with on short sales, because the Wells Fargo short sale department is second to none. My success rate is very high when closing short sales with Wells Fargo."