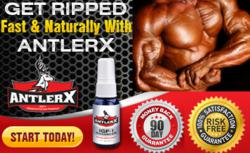 AntlerX Deer Antler Velvet Spray Extract produces the Best Deer Velvet Antler in the world with new Proprietary Micro-Delivery System Blend for Maximum Effectiveness and Benefit.
San Diego, CA (PRWEB) May 02, 2013
The removal of Deer Antler Velvet Extract and Deer Antler Sprays from a banned substance list for professional sports players and has given PGA golfer Vijay Singh an opportunity to not be suspended from the PGA Tour, according to PGATour.com.
In January 2013, Singh admitted to using the banned substance Deer Antler Extract and was sanctioned in February for doing so.
Vijay quickly appealed the decision to the PGA Tour and on April 30th, 2013, the PGA TOUR counsel determined that it was no longer necessary to ban this substance as long as they do not test positive for other substances.
On January 29th, 2013 a Sports Illustrated story broke out right before the start of the Super Bowl XLVII that implicated numerous professional athletes for using Deer Antler Spray to enhance their performance.
But now that the PGA Tour Counsel has stated their decision to remove the substance from the prohibited list, they will not receive any lifetime bans from their sports.
Deer Antler Velvet Extract has been in use for a hundreds of years. It dates back to ancient Chinese medicine that was used to cure a long list of illnesses. The best extract comes out of New Zealand due to the Red Deer that provides a higher quality extract.
One of the top selling brands is called AntlerX. According to the manufacturer, AntlerX Deer Antler Spray is an easy to use, spray supplement that can help sharpen your senses and give you the ability think more clearly. It can also decrease aches and pains by helping to tone the body.
One of the biggest reasons that an athlete takes AntlerX is due to its ability to boost energy levels as well as increase endurance and stamina. This is crucial when you are training to get better in your respective sport. It can also help the athlete get a deeper night sleep, which is essential when trying to boost muscle and stay focused.
Now that the World Anti-Doping Agency has released a statement and removed Deer Antler Spray from the banned substance list, athletes all around the world will jump at the chance to see the benefits this performance enhancer extract spray can have on their abilities.
The reason many choose to take AntlerX Spray is due to it being the highest grade of Deer Antler Velvet spray on the market. At this time, there are little to no side effects or adverse reactions when taking it. Even if an athlete takes too much, the body will rid itself of the excess and only use what it needs.
AntlerX is available as an Over The Counter (OTC) supplement which means, one does not need or require a doctor's prescription to purchase. AntlerX does not contain any caffeine, Human Growth Hormones (HGH), illegal drugs, or banned substances.
AntlerX Deer Antler Spray can be found online and is also backed by a full money back guarantee, 90 days risk free.