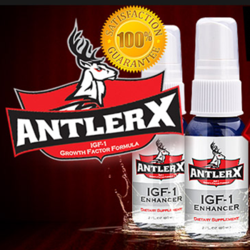 Health Effects of Deer Antler Velvet Extract on maximal aerobic performance and the trainability of muscular strength and endurance are profound.
Baltimore, MD (PRWEB) January 31, 2013
Every once in a while a special, unique, never heard of until now substance come to surface promising a myriad of natural health-promoting benefits.
Deer Antler Velvet Extract Spray, an emerging supplement which has been touted for its preceived above-exceptional ability to help support faster muscle growth and tissue repair, is now in high demand due to recent stories portraying the use of "performance enhancing drugs" for quicker recovery from injury and aging athletes.
However, amateur athletes, aspiring bodybuilders, and natural health enthusiasts are constantly looking for natural alternatives to bulking up and maximizing their training efforts.
According to the official site for AntlerX, a premium high quality deer antler velvet spray supplement, helps gain more strength and endurance for quicker recovery and turnaround time after physical workouts and weight lifting exercises.
In light of the recent development that athletes may have used Deer Antler Spray supplementation as a means to improve recovery time and pace, AntlerX is running a special promotion on all 6 bottle orders of deer antler spray for a limited time only.
Due to all of the buzz and increased demand for a Pure deer antler velvet extract supplement, AntlerX is now delivering on a vital, high energy impact 7 Minute Warrior Workout program that focuses on increasing stamina, endurance, flexibility and core strength to compliment the use of antler velvet spray supplementation.
With all of the controversy about performance enhancing drugs being used in professional sports leagues, most people would tend to think that the use of "all-natural" performance-enhancing supplements would be welcomed with open arms.
Unfortunately, this isn't the case as many early accusations for a professional linebacker and professional golfer are appearing all over media outlets worldwide.
The beneficial ingredient lies within the Deer Antler Velvet Extract's IFG-1 (insulin like growth factor) which is very similar to HGH (human growth hormone) for body boosting activity and results.
Due to the anabolic effects that the deer antler velvet has on human muscle growth, the use of IGF-1 has been banned indefinitely by the NFL, NBA, PGA and other major sports leagues.
However, deer antler velvet is not new, and has traditionally been used by the Chinese for thousands of years as a natural solution to support bodily ailments, disorders, and regeneration.
Only more recently has deer antler spray been recognized for its alleged ability to improve muscle mass and tone by speeding up the recovery process in between workouts and exercises.
Several studies have been conducted on deer antler velvet to find out just exactly what it can do for the body. Research has shown that it increases the immune system's response and helps improve insulin receptor sensitivity in diabetics to regulate their blood sugar levels.
The IGF-1 in deer antler velvet also helps transport amino acids and glucose into muscle tissues in order to repair the damage that has been done to all the nerves and cells.
In one particular animal study, research showed that Deer Antler Velvet's IGF-1 was able to repair and reconnect nerve endings up to a distance of six millimeters. For athletes, this means that they can gain muscle strength and recover from injuries much faster than normal.
Though IGF-1 supplements are made from deer antler velvet, it should also be made clear that IGF-1 is also found naturally in the human body.
Insulin like Growth Factor 1 is produced within the liver as a response to the pituitary gland's production of growth hormones. Without HGH, the liver will not produce IGF-1. And unfortunately, the production of human growth hormones begins to slow down as the body becomes older.
The highest bio-available source of IGF-1 can only be found in genuine deer antler velvet extract and spray form.
AntlerX is a powerful anabolic supplement that contains 100mg of pure deer antler velvet and other nutrients to build a stronger, leaner body.
Although the use of IGF-1 is banned by professional sports leagues because of its performance-enhancing abilities, AntlerX comes with a risk free with a 90 day guarantee that ensures complete satisfaction in addition to the whole body exercise program, 7 Minute Warrior Workout.
Try it now to experience real results and take advantage of the exclusive limited time offer by purchasing 6 bottles of AntlerX Deer Velvet Extract Spray supplement.