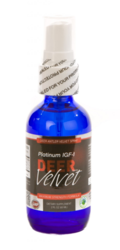 In the successful organization, no detail is too small to escape close attention.
Lou Holtz
(PRWEB) January 26, 2012
Natural Medical Supply is an online supplement store that carries natural supplements for multiple health purposes including, vitamins, cleansing, diet and appetite suppressants, protein and bodybuilding supplements and more. The IGF-1 and Deer Antler Spray are the latest in a long line of popular products the store carries.
Deer velvet, the outer growth on antlers is harvested for IGF-1 (Insulin Growth Factor). IGF-1 is a protein hormone that stimulates and regulates cell growth and multiplication in bones and cartilage. Used in China for over 2,000 years to treat illness and other ailments, deer velvet has been known to benefit muscle building and recovery, treat arthritis and immune stimulation among other benefits.
"Deer Antler Spray and IGF-1 are popular among our customers who are looking for muscle recovery and bodybuilding supplements," said Jason Mac, media relation manager of Natural Medical Supply. "Our product carries more deer antler velvet compared to leading competitors' similar products."
Our pure deer velvet supplement is processed in New Zealand and is available in capsules. We also offer deer antler spray.. All natural deer velvet is collected and cold processed from the antler velvet of a deer in a painless process that causes no harm to the animals. Natural Medical Supply gets their pure deer antler from New Zealand because of their process and high quality product.
"Deer velvet is a great addition to a healthier lifestyle and has been promoted for anti-aging, arthritis, libido and body building," said Mac. "We recommend trying Deer Antler Spray for work out recovery and body building." Their are other nutrients deer antler velvet offers such as immune system support and brain function, which can be outlined in future articles.
Sources for Deer Antler Velvet information:
drugs.com/npc/deer-velvet.html
bodybuilding.com/fun/southfacts_deerantlervelvet.htm
About Natural Medical Supply
###