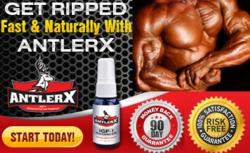 AntlerX Deer Antler Velvet Spray Extract produces the best deer velvet antler in the world with new Proprietary Micro-Delivery System Blend for Maximum Effectiveness and Benefit.
Seattle, WA (PRWEB) February 07, 2013
An all-natural performance enhancing drug known as Deer Antler Velvet Extract has been getting plenty of attention in the media as well-known professional bodybuilders and aspiring amateur athletes have been using a product called AntlerX to recover faster from their muscle injuries and increase their cardiac output for peak human performance.
But what does the science reveal about the velvet surrounding healthy deer antlers? It is a little known fact that deer antler velvet has actually been recognized for its health enhancing benefits for over 2,000 years now in eastern medicine cultures.
The key to harnessing the regenerative powers of the deer antler velvet lie within the extraction and delivery mechanisms.
Until of late, science and technology did not know how to properly cultivate the essence of deer antler extract and now are able to use a proprietary micro-delivery system into spray form for faster delivery, longer lasting effects, and increased bio-availability.
The spray extract of deer antler velvet supplementation allows the liquid formula to enter the blood stream quicker for faster absorption and utilization which allows for easier stimulation and activation of tissue growth and muscle recovery.
Although the term "performance enhancing drugs" is usually a term that refers to harmful drugs such as anabolic steroids, the term is now being used in a broader sense to describe all types of performance enhancing substances including those that are derived from animals and other natural sources.
The velvet antler of deer contain powerful, naturally occurring growth factors known as IGF-1 and IGF-2 which are responsible for the uncanny regeneration of deer antlers, the only mammal in the animal kingdom to experience such re-growth of body parts.
Insulin-like Growth Factor 1 (IGF-1) is also found in the human body. It is primarily known for its role in reducing body fat, increasing lean body mass, strengthening bones, and metabolizing glucose.
IGF-1 is produced within the human liver as a result of HGH being released by the pituitary gland. However, as the body grows older, the pituitary gland starts to produce less and less amounts of HGH for the body to use. As a consequence, the levels of IGF-1 are also diminished.
AntlerX IGF-1 Spray offers the highest grade of deer antler velvet that delivers real results that can be felt in a short period of time for maximum benefit. Research has shown that the IGF-1 found in AntlerX is able to help the body produce more red blood cells to deliver oxygen to the muscles as well as produce more white blood cells to increase the immune system's ability to fight against free radicals.
This potent IGF-1 natural performance enhancing drug also helps increase the body's inherent-born ability to repair damaged nerves, reduce injury recovery time, build stronger muscles, and increase stamina.
AntlerX is also touted by many as being an all-in-one fountain of youth solution that can help repair the body, restore energy levels, and reverse signs of aging.
The promising side of deer antler velvet extracts seem to indicate little to no adverse side effects or risks of over dosing or consuming too much. The body simply rids itself of all excess IGF-1 as deer antler extract is non-toxic and safe for long term use.
AntlerX Deer Antler Velvet Extract Spray is available over the counter and it does not require a doctor's prescription. It is 100% safe and does not contain any HGH, caffeine, or illegal drugs and ingredients.
AntlerX is available for online purchase and it comes with a full 90 day risk free money back guarantee to provide complete credibility for the product.