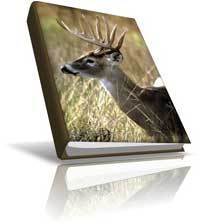 Deer Food Plots Made Easy
Alberta, Canada (PRWEB) August 12, 2008
Dr. Judy McFarlen - Deer Food Plots Made Easy a Canadian Veterinarian, who lives in Alberta (where some of the biggest game is found), announces the launch of her leading edge, first on the market, complete do it yourself deer food plots instructional manual in ebook format.
"Deer Food Plots Made Easy" was created out of Dr. Judy's complete frustration with the lack of user friendly, fully integrated, comprehensive, top to bottom instruction on how to make a whitetail deer or food plot work in her area.
She soon discovered the information was lacking in most areas. It was piecemeal at best and difficult for a "new to plots" person to make sense of what was out there. Deer Food Plots Made Easy is the first manual written on the subject of DIY Deer Food Plots that takes scientific information that only the horticulturalist can understand and puts it into language that the hunter, game manager, photographer or guide can make sense of.
Whitetail and Mule deer hunters, game managers, guides, and photographers wanting to start a plot or those wanting to solve some of their plot problems will find this instruction manual full of useful, easy to apply information. Dr. Judy McFarlen understands that building and maintaining a plot is a big decision. When done right it is glorious, but each situation is unique.
Deer Food Plots Made Easy encourages individual design and simplifies the entire method of plotting. It covers all the issues, strategy, choosing the right plants for your zone, how to keep the weeds or aggressive deer from destroying your efforts. Soil testing and easy to pick seed mixes are even available for those hard places such as sandy soils, wet soils, shady areas, and the dreaded Northern climates.
DIY Deer Food Plots is committed to providing all the information up front and making the building and maintaining of deer food plots an enjoyable experience.
Deer Food Plots Made Easy has been well researched, organized and tested. For those in Northern areas, there are special needs tips and tricks. Don't let the winter get the best of your plots.
Dr. Judy McFarlen has a free newsletter available to those who are interested.
Other free services recently released are available at the website such as sign up bonus articles, and the resource page. The newsletter is chalk full of interesting news, not necessarily confined to the subject of plotting but of interest to deer hunters, gamers, photographers and guides.
Dr. Judy McFarlen, a Canadian Veterinarian, invites you to visit the website @ DIY Deer Food Plots for the first ebook of its kind and to sign up for our newsletter and access to our resources page, with information and news that is of interest to deer hunters, gamers, photographers, and guides.
###