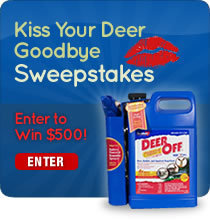 More entries mean more chances to win, so we encourage folks to visit DeerOff.com every day to enter the sweepstakes
Lititz, PA (Vocus) May 17, 2010
DeerOff.com, the official site of Deer Off Deer, Rabbit and Squirrel Repellent, has launched its Kiss Your Deer Goodbye sweepstakes. Starting right now, DeerOff.com visitors can enter at DeerOff.com/Sweepstakes every day through June 30, 2010, for the chance to a win $500 Visa® Gift Card.
"More entries mean more chances to win, so we encourage folks to visit DeerOff.com every day to enter the sweepstakes," stated Havahart marketing associate Theresa Flavin. "Two lucky winners will walk away with a $500 Visa® gift card, but everyone can use the coupon code on the site for limited-time offer of $3 Off their purchase of Total Yard Protection Repellents from Havahart."
While at DeerOff.com, visitors can learn the "DEER OFF® ADVANTAGE." As the only deer repellent that targets two of the animals' senses -- smell and taste -- it's the most effective deer repellent on the market. With a fun, interactive graphic, DeerOff.com shows exactly why OMRI listed®, all-natural Deer Off works better and longer than other repellents!
Says one Deer Off user, Lori, from West Tisbury, MA: "I have a terrible deer problem in my garden. Vegetables and flowers can be devastated overnight and they trample the gardens too. They will eat every daylily bud and tomato plant I have. I spray Deer Off on once a month (more if it rains a lot) and they really don't touch the plants. It is 100% effective."
There are other big things happening at Havahart. In addition to the sweepstakes, Havahart has debuted its first-ever national TV commercial. Catch it on HGTV, TLC, DIY and CNBC.
Plenty of home gardeners are snapping up Deer Off and helping their yards and gardens thrive. There is no purchase necessary to enter Deer Off's "Kiss Your Deer Goodbye" sweepstakes. Learn more at DeerOff.com/Sweepstakes.
About Havahart®:
Havahart®, a leading manufacturer of caring wildlife control products for more than 60 years, offers live animal traps and animal repellents. Its live animal traps are a safe and humane animal control alternative. Many of the company's animal repellents are OMRI listed® organic or USDA® approved for organic gardening, reflecting Havahart's commitment to a cleaner, healthier environment.
Havahart® is a registered trademark of Woodstream Corp.
About Woodstream Corp:
Woodstream Corporation is a long-standing, privately held company and a leading manufacturer and marketer of quality-branded wild bird feeders, rodent control products, caring control products for pets and wildlife, decorative garden accents & natural solutions for lawn and gardens.
###