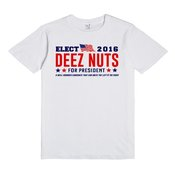 The FEC has accepted thousands of new candidates for president this year compared to the same time period in the 2012 race
Louisville, KY (PRWEB) August 26, 2015
The emergence of last-minute candidates for the 2016 presidential race has been covered at the 904 News website since June of this year. The leading third-party candidate who has an official supporter t-shirt at http://teespring.com/deez-nutz-for-president is now included in a new post online. The Deez Nuts presidential endorsement list is now published at http://904news.com/deez-nuts-endorsement-2016.
The posted list of endorsements is one new topic that will be curated as the election year progresses at the 904 News website. The listing includes the top two picks in the Republican and Democratic party announced by Deez Nuts. The new post also includes links to merchandise that can be ordered to officially support the new candidates.
"The FEC has accepted thousands of new candidates for president this year compared to the same time period in the 2012 race," said a reporter at the 904News.com website.
While some of the third-party adults who have officially announced a 2016 candidacy are not selling merchandise, there are supporter groups across the country that are now using social media platforms to alert the public about policies and ideas of each candidate as well as what t-shirts or hats for sale.
"As more endorsements for presidents are announced, we will update our web postings to keep consumers informed about all front runners in the upcoming election," added the reporter.
The 904 News company has brought on new staff to handle the influx of information that is processed to compile the company news reports each day. A daily schedule of postings is now listed on the front page of the company website.
About 904News.com
The 904News.com company updates its media portal daily with information for consumers to explore. The company has a growing research staff and reporter staff helping to promote different stories around the U.S. The 904News.com company is based in the city of Jacksonville, Florida and now publishes data that can be accessed by smartphones, tablets and other digital devices.