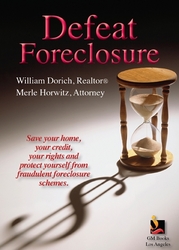 Homeowners have more power than they realize
Los Angeles, CA (PRWEB) May 28, 2008
A major financial crisis looms as property values drop and the number of home mortgage foreclosures skyrocket across the nation. "In some areas of the country this problem has reached epidemic proportions," according to Los Angeles-based attorney and author Merle Horwitz. "In some cases the problem has been fueled by blatantly dishonest mortgage brokers who need to be held accountable."
Horwitz, along with real estate expert and co-author William Dorich, have created "Defeat Foreclosure" a guide designed to help homeowners protect themselves and their credit as they deal with this unscrupulous foreclosure schemes. "Homeowners have more power than they realize," said Dorich in a telephone interview from his real estate office in Beverly Hills. "We can show honest Americans how to beat foreclosure completely by using the simple steps in this new book."
"As home values continue to decline at alarming rates more and more people will face the prospect of foreclosure," said Vince Malta, 2006 President of the California Association of Realtors. "This book intelligently and concisely lays out the viable options available to homeowners at risk of losing their homes."
For more information go to http://www.DefeatForeclosure.org.
###