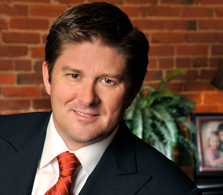 It makes no sense. Our lawmakers could have and should have addressed it in the user fee bill. It's a shame they have missed out on this opportunity.
Kansas City, MO (PRWEB) June 23, 2012
Kansas City defective medical device attorney Derek H. Potts expressed disappointment with a House bill passed this week that will reauthorize the U.S. Food and Drug Administration's drug and medical device user fees.
Potts said the measure, which is expect to be voted on by the Senate in the coming week, failed to close a loophole in the FDA's 510(k) approval process that, in his view, has exposed patients across the country to potentially dangerous medical devices.
In the 510(k) process, the FDA must approve certain medical devices for the U.S. market so long as the manufacturer shows that the device is "substantially equivalent" to a product that has already been cleared for the market, which is called a "predicate" device.
"Here's the problem – even if that predicate device was recalled for safety reasons, the FDA still would need to give market approval to a device that's substantially equivalent to that predicate," Potts said. "It makes no sense. Our lawmakers could have and should have addressed it in the user fee bill. It's a shame they have missed out on this opportunity."
Potts and his nationally recognized personal injury firm, The Potts Laws Firm, LLP, currently represent women claiming injuries from transvaginal mesh implants.
The litigation is taking place in the U.S. District Court for the Southern District of West Virginia against pelvic mesh manufacturers American Medical Systems, Inc. (MDL No. 2325), Boston Scientific Corp. (MDL No. 2326), C.R. Bard, Inc. (MDL No. 2187), and Ethicon, Inc. (MDL No. 2327).
Potts also serves as the plaintiffs' liaison counsel and co-lead counsel in the In Re Mentor Corp. ObTape Transobturator Sling Products Liability Litigation (MDL No. 2004), which is in the U.S. District Court for the Middle District of Georgia.
According to a report issued by Consumers Union – the policy and advocacy arm of Consumer Reports – vaginal mesh implants are examples of how potentially harmful medical devices can get onto the market through the 510(k) loophole.
As Consumers Union explains, numerous transvaginal mesh products have been cleared by the FDA due to their substantial equivalence to a vaginal mesh device that was approved by the FDA in 1997 – even though that same device was recalled by the manufacturer in 1999.
"Not surprisingly," Consumers Union says, "the problems women have experienced with vaginal mesh implants have not been unique to the recalled device, and the FDA has received thousands of complaints from injured patients."
In July 2011, the FDA issued a safety communication stating that it had received 2,874 reports of complications associated with transvaginal mesh devices used to treat pelvic organ prolapse (POP) and stress urinary incontinence (SUI) between 2008 and 2010.
According to the FDA, vaginal mesh erosion and protrusion of the mesh through the vaginal wall are the most commonly reported complications. The FDA also has received reports of pain, infection, bleeding, emotional problems, vaginal scarring and shrinkage.
Potts said that manufacturers seeking device approval from the FDA based on their substantial equivalence to a product that's been recalled should need to demonstrate the device's safety and effectiveness before it goes on the market.
"We believe clinical trials should be required," Potts said. "Surely, the medical device manufacturers will challenge this, saying they're costly and keep products from getting to patients in a timely fashion. But if these trials can ultimately keep dangerous devices from harming patients, they're worth every minute and every penny."
About The Potts Law Firm, LLP
Founded in 2002 by Derek Potts, The Potts Law Firm, LLP, is based in Kansas City, Missouri, and committed to aggressively representing those who have been wronged by the negligence, misconduct, or fraud of others from coast to coast. The firm's practice areas include: Aviation, birth injuries, car accidents, class action, consumer protection, dangerous drugs and devices, environmental and toxic exposure, medical malpractice, motorcycle accidents, wrongful death, nursing home neglect, securities litigation, unfair business practices and truck accidents. The firm's main office is located at 908 Broadway, 3rd Floor, Kansas City, MO, 64105 (local phone number (816) 931-2230). For more information, call the firm toll-free at (866) 311-2230 or use its online form.