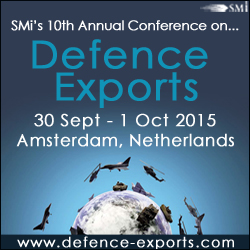 Europe's Leading Arms Export Controls conference
London, UK (PRWEB UK) 18 May 2015
SMi are delighted to announce, Europe's Leading Arms Export Controls conference, Defence Exports 2015 will return to Amsterdam to bring together international trade lawyers, Government officials, trade compliance consultants and industry experts to discuss the latest developments in international export reforms and plans for regulation changes in the future.
After the success of last year's event, the 10th annual conference will provide the opportunity for attendees to discuss and network with key government officials and industry leaders to understand the latest export controls in Europe, US and Asia-Pacific in order to comply with the new and changing markets. The conference has been specifically designed to give those working in the industry the insight and tools they need to adapt to the changes, developments and establishment of regional export controls.
Key Government Speakers Include:

Kevin Wolf, Assistant Secretary for Export Administration, U.S Department of Commerce
Major General Jean-Luc Tinland, Director of the Armaments Department, DGA
Jon Erik Strømø, Director, Section for Export Control, Norwegian Ministry of Foreign Affairs
Georg Pietsch, Directorate General Exports, Ministry of Economics & Technology of National Defence Canada
Christopher Chew, Head of Policy, Export Control Organisation, Department for Business, Innovation and Skills
Melanie Reddiar, Director of Scientific Support, Non-Proliferation Secretariat, Department of Trade and Industry South Africa
Industry Speakers Include:
Kathryn Greaney, Vice President of Global Trade Controls, The Boeing Company
Alexander Groba, Coordinator U.S. Regulations, Airbus Group
Carmen Fellows, Senior Director, Global Trade Compliance, Finmeccanica North America and DRS Technologies
Björn Uggla, Vice President Export Compliance, SAAB AB
Nicolas Fribolle, Trade Compliance Director, Meggitt Sensing Systems
Beth Mersch, Director, Global Trade Management Europe, Northrop Grumman Corporation
Stan Hoppenbrouwer, Group Export Control Director, Thales
Click here to view the full conference agenda along with speaker and presentation details
In addition to the event, there will be 4 interactive half-day workshops taking place before and after the event:
A) Specially Designed, hosted by Kevin Wolf, Assistant Secretary for Export Administration, U.S. Department of Commerce
B) Defence Trade under the EAR, hosted by Gary Stanley, President, Global Legal Services, PC
C) Going Global in the New Era of Trade Controls, hosted by Boeing
D) A trade compliance plan for new and proposed EU member states, hosted by SECURUS Strategic Trade Consulting
The event has sold out year on year, those interested in attending are advised to secure their place early and take advantage of the £300 early bird discount which expires 29th May 2015.
For more information visit the event website - http://www.defence-exports.com
Alternatively contact the team on: +44 (0) 20 7827 6054 or email jhitchen(at)smi-online(dot)co(dot)uk
Defence Exports 2015 is sponsored by: Amber Road, Hohmann Rechtsanwalte, OCR Services, Pillsbury and Sheppard Mullin
Defence Exports
30th September - 1st October 2015
Movenpick Hotel, Amsterdam, The Netherlands
http://www.defence-exports.com
------------------------- END --------------------------
About SMi Group:
Established since 1993, the SMi Group is a global event-production company that specializes in Business-to-Business Conferences, Workshops, Masterclasses and online Communities. We create and deliver events in the Defence, Security, Energy, Utilities, Finance and Pharmaceutical industries. We pride ourselves on having access to the worlds most forward thinking opinion leaders and visionaries, allowing us to bring our communities together to Learn, Engage, Share and Network. More information can be found at http://www.smi-online.co.uk