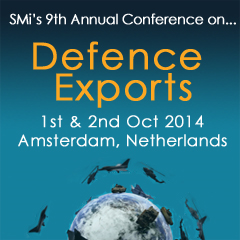 London (PRWEB UK) 2 September 2014
With Japanese military contractors taking their first steps toward selling weapons abroad since Prime Minister Shinzo Abe relaxed an export ban; the Prime Ministers of France and India recently discussed ways to strengthen defence trade and Australia and Japan set to sign a trade deal which should in turn lead to 'evolutionary' changes in defence ties; the shift in defence trade towards the APAC region continues to increase.
Join in the debate at the 9th annual Defence Exports conference and hear from key leaders discussing the latest trends within the APAC region. Presentations include:
Japanese update on export controls
Presented by: Jun Kazeki, Director, Security Export Control Policy Division, Ministry of Economy Trade And Industry, Government of Japan and Hisashi Riko, Member of the Board, General Manager, CISTEC
Asia-Pacific Export Control Update
Presented by: Jay Nash, Managing Director, Strategy & Development, SECURUS Strategic Trade Solutions, LLC
Click here for more details
Industry-leading regional speakers also include:

Kenneth B. Handelman, Deputy Assistant Secretary, Bureau of Political-Military Affairs, U.S Department of State
Kevin Wolf, Assistant Secretary for Export Administration, U.S Department of Commerce
Ms Beth McCormick, Director, Defense Technology Security Administration, U.S Department of Defence
Maria Izquierdo Ruiz, Director for Licensing of the Export Control System, Ministry of Economy, Mexico
Dubi Lavi, Director, Defense Export Control Agency, Ministry of Defence Israel
Martijn Dadema, Coordinator Arms Export Control Policy, Netherlands Ministry of Foreign Affairs
Click here to view the full conference agenda
Places are now limited so those interested in attending are advised to book as soon as possible.
Please visit defence-exports.com to book a place or for further information call +44 (0) 20 7827 6054.
---------------------ENDS-------------------
About SMi Group
The SMi Group is a highly professional, independent and global event-production company that specializes in Business-to-Business Conferences, Workshops and Masterclasses, and online Communities. The SMi Group creates and delivers events in the Defence, Security, Energy, Utilities, Finance and Pharmaceutical industries. For more information, please visit smi-online.co.uk