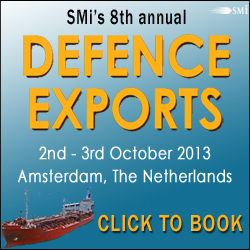 Europe's leading conference for senior export control professionals
(PRWEB UK) 20 June 2013
Defence Exports 2013 returns for the 8th annual event to feature a line-up of leading speakers and key Government officials from the US, Europe and across the world. Attendees will be able to learn about the latest updates on international export control regulations.
Many European export control managers have only dealt with the ITAR and are therefore relatively unfamiliar with the nuances to EAR regulatory requirements. With the recent Obama export control reforms, industry are now being forced to do a hurried study of the EAR. This conference is designed to give those working in defence exports compliance the insights and tools they need to survive the recent changes and work toward greater success with their export compliance.
Understand defence exports on a global scale and place your company at a strategic advantage with critical compliance information. After last year's completely sold out event, this year's event is expected to be no different so those interested are advised to register early. Secure your place by the 28th June to save £100, visit http://www.defence-exports.com
The featured speaker line-up includes:

Kevin Wolf, Assistant Secretary for Export Administration, Department of Commerce
Ambassador Philip Griffiths, Head of Secretariat, Wassenaar Arrangement
Mr Stephane Chardon, Dual Use Export Controls DG TRADE, European Commission
Jan-Erik Lövgren, Deputy Director General, Swedish Inspectorate of Strategic Products (ISP)
Dr Walter Werner, Head of Unit, V B 3 - Export Control: Defence Goods; Control of Acquisitions, Ministry of Economics and Technology, Germany
Spencer Chilvers, Head of Export Control Policy and Civil Nuclear, Rolls-Royce plc
Jochem Hartmennshenn, Senior Manager Export Administration, EADS - Cassidian
To view the full speaker line-up please click here
In addition, don't miss the interactive workshop on:
How to Draft an Effective Export Control Compliance Manual
Workshop Leader: Gary Stanley, President, Global Legal Services
Who should attend?
In-house legal counsel, export control managers, quality control managers, and anyone else who is tasked with overseeing export control compliance and developing the policies, procedures, and processes to make it happen.
For those wishing to attend, you can register online at http://www.defence-exports.com or alternatively contact James Hitchen for more information on: +44 (0) 207 827 6054 or email jhitchen(at)smi-online(dot)co(dot)uk
---------ENDS-------
About SMi Group
The SMi Group is a highly professional, independent and global event-production company that specializes in Business-to-Business Conferences, Workshops and Masterclasses, and online Communities. The SMi Group creates and delivers events in the Defence, Security, Energy, Utilities, Finance and Pharmaceutical industries. For more information, please visit http://www.smi-online.co.uk