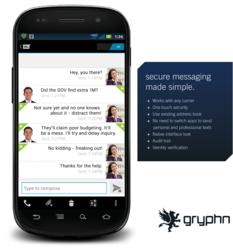 Apple's iMessage service relies on the cloud, where hackers can intercept traffic, while ArmorText uses a point-to-point carrier based network plus encryption to increase security for your communications.
Washington, DC (PRWEB) September 18, 2012
Millions of Apple iMessage users worldwide were unable to access Apple's popular real-time messaging platform for over 90 minutes today due to an apparent Apple-based server-side issue, following their last outage on July 22nd. After an estimated $8 Billion in productivity was lost globally in last year's four-day RIM Blackberry outage, Apple's recent glitch poses another problem for its market growth and may erode trust among enterprise security stakeholders. Since corporate and government users are alienated with these outages, and hundreds of leading organizations contemplate replacement of Blackberry devices with Android or iOS-based smartphones, the Defense Innovation Network is announcing its endorsement of Gryphn's ArmorText cross-platform secure messaging solution to confront the security and performance gaps found in proprietary solutions from Apple and RIM.
"Defense executives require the ability to discuss sensitive ideas without fear of interception or compromise. ArmorText is the only encrypted DRM-enabled solution we know of that can protect our member communications over standard mobile carrier networks in near-real-time," says Prescott Paulin, a Crowdstorming Idea Advocate with the Defense Innovation Network.
Corporate security is compromised when users who rely on iMessage are unable to transmit messages via the standard platform, as iMessage may revert to sending a regular unencrypted text message. While this feature is considered by Apple to be "fail-safe" for transmission, it also results in unacceptable security compromises for users in the financial, healthcare, defense, and other heavily-regulated industries where security is of paramount concern.
With "1.3 million demands for subscriber information last year from law enforcement agencies seeking text messages..." according to the New York Times, users are often forced to choose between convenience and compliance when protecting their information. Yet Gryphn, a D.C.-based startup, has created a solution without "fail-safe" flaws or security compromises. While conforming to industry-specific regulatory requirements, Gryphn provides secure delivery for both enterprise and individual users through its ArmorText offering.
A single finger swipe allows users to exchange public encryption keys, encrypt text messages, and protect text, audio, video, and picture messages from eavesdroppers by going through a carrier-based network instead of through the cloud, like with iMessage. ArmorText users may control how messages are used in the future, including permissions to copy, forward, and soon even expire content. Gryphn's encrypted ArmorText messages use the highest level of government approved encryption to ensure that only the sender and receiver can read messages without being intercepted by a third party or agency.
Gryphn was featured by the Huffington Post at the 2012 RNC and DNC conventions as the leading provider of scalable security solutions for mobile messaging. Gryphn is hailed by the Defense Innovation Network as one of this year's most innovative startups for national security. ArmorText is a free download from the Google Play store on Android.
The Defense Innovation Network encourages cross collaboration and open-innovation between government, academia, and private-sector defense organizations while organizing invitation-only crowdsourced brainstorming events for defense executives through the support of external luxury sponsors like Glenfiddich and Uber.
If you would like more information about Gryphn's ArmorText offering, or to schedule an interview with Navroop Mitter, CEO of Gryphn Corporation, please contact Bobby Saini at 202-550-9867 or via email at bobby@gryphn.co
For information on the Defense Innovation Network please contact Darren Fazzino via email at darren@defenseinnovation.net