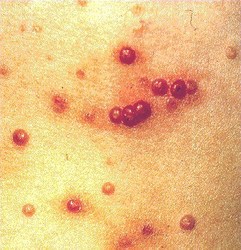 Defense Soap has been so successful at lowering the rates of infectious outbreaks among our Senior and Junior Teams, that we're now expanding the program across the entire Olympic Training Facilities,'' said Lee Kemp, Three-Time World Champion, 2008 Olympic Freestyle Coach
Lakewood, Ohio (PRWEB) November 19, 2008
Defense Soap is the first all-in-one soap formulated specifically for wrestlers and mixed martial arts athletes. Washing with Defense Soap is all they'll need to protect themselves against the consequences of hand-to-hand combat. These consequences are well known. They include everything from contracting ringworm and staph to impetigo and MRSA. The active ingredients in Defense Soap attack and destroy every one of these infections.
These ingredients have powerful anti-microbial properties. They represent a quantum leap over the hazards and problems associated with mere anti-bacterial soaps and anti fungal applications. The truth is there has been a growing anti-bacterial resistance in organisms that cause infections. Anti-bacterial washing can change the ecology of the skin. It can disrupt the delicate balance of the skin flora. When that happens, trouble follows. Therefore Defense Soap created a two-fold strategy for itself: leave most of the normal skin flora alone yet also incorporate a blend of natural botanicals known to possess anti-fungal, anti-viral and anti-bacterial properties.
Defense Soap is made with the purest pharmaceutical grade essential oils. It is not alcohol-based nor does it contain triclosan. In fact, it contains no chemicals whatsoever. After all, it's now well established that infections have become ever more resistant to drugs. Defense Soap reflects today's far more advanced understanding of the needs of skin hygiene. It's the one soap whose all-natural ingredients have been clinically proven to kill fungi, bacteria and viruses. Without any assistance from chemicals.
Click here to read the Science Behind Defense Soap.
Defense Soap is being hailed for its extraordinary anti-bacterial, anti-viral and anti-fungal benefits by major figures in the combat sports arena. They include: Lee Kemp --- three time World Champion 2008 Olympic Freestyle Coach, Richard Bonacci ---- Head Wrestling Coach for 36 years, Cleveland State University. Defense Soap is also used by the USA World Teams at the Colorado Springs Olympic Training Facilities.
"Defense Soap has been so successful at lowering the rates of infectious outbreaks among our Senior and Junior Teams, that we're now expanding the program across the entire Olympic Training Facilities,'' said Lee Kemp, Three-Time World Champion, 2008 Olympic Freestyle Coach"
Defense Soap was created by Guy Sako, a Cleveland police officer and youth wrestling coach. In his work, he noticed that wrestlers' bodies had virtually no defense against some of their smallest and most persistent opponents: bacteria, viruses and fungi. And so he began extensive, exhaustive research into this problem. Today's Defense Soap is the fruit of his extraordinary labors.
###