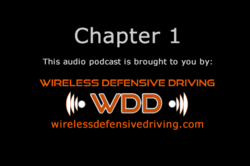 These skills should be practiced every time someone gets behind the wheel
Dallas, TX (PRWEB) February 26, 2013
Using mobile technology for faster delivery, WirelessDefensiveDriving.com has just released new Texas defensive driving podcasts to cover Texas' driving rules and skills needed to negotiate the traffic and highways around the Lone Star State.
Keeping safe driving skills sharp requires continuous improvement and retraining to avoid complacence and over confidence. These defensive driving podcasts are made in a forum talk style, with humor and high quality production, the drivers will find them entertaining and engaging. "It is easy to put the defensive driving skills to use. These skills should be practiced every time someone gets behind the wheel of a vehicle" says Mr. Collins, founder and instructor of WirelessDefensiveDriving.com Defensive Driving Texas.
Classic rules of the road and new safer driving tips on how to be safe, are revisited and covered in the new podcasts. These new driving course materials are fully scrutinized and approved by the Texas Education Agency, the over-seeing state agency in charge of defensive driving industry regulation.
Some of the topics covered are: Alcohol and safety problems, driving emergency, defensive driving strategies, laws and procedures, factors influencing the driving performance, seat belts, helmets and airbags, perceptual skills and special skills for driving.
The new podcasts are also available for streaming on YouTube http://goo.gl/eFkBe or directly from iTunes to be downloaded to any mobile device and take on the road, same way a driver would listen to an audio book. Of course the same podcast can be used on regular laptops or desktops.
"The new delivery format allows the material to be updated constantly and delivered to our fellow drivers in real time. When new statistics are released and new or changed laws are approved, the defensive driving course materials can be updated quickly" states Mr. Collins.
Mr. Collins opened the first online defensive driving Texas course over a decade ago and has taught many Texas drivers how to become safer, better drivers. For more information please contact WirelessDefensiveDriving.com online.
WirelessDefensiveDriving.com
5470 West Lovers Lane
Dallas, TX 75209
Office: 888-925-9501