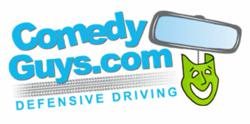 "We're also letting people know about our blog, Facebook, Twitter and other social media," adds Comedy Guys' Cash Cooper. "And thanks to our comedians, we have some really fun and funny stuff posted on a regular basis."
Dallas, TX (PRWEB) April 29, 2011
ComedyGuys.com is spreading the word about their defensive driving course to today's ever-mobile public. Their funny and innovative course works on iPhones, iPads, and Android phones as well. With today's hectic mobile lifestyle, now there's a mobile defensive driving course that's flexible enough to keep up.
To help get the word out, ComedyGuys.com is giving away three iPads to some lucky winners. The Get Mobile! Giveaway promises to be simple, fun, and interactive. And since no purchase is necessary, contestants can participate in the giveaway even without taking the Comedy Guys defensive driving course.
"We're also letting people know about our blog, Facebook, Twitter and other social media," adds Comedy Guys' Cash Cooper. "And thanks to our comedians, we have some really fun and funny stuff posted on a regular basis. We think the Internet crowd will get some fun out of it."
Three Ways to Win:
The Comedy Guys Get Mobile! Giveaway has three different ways to win, and contestants are encouraged to enter all three.
The simplest entry is to text MYIPAD to 69302. This will put contestants' telephone numbers into a database from which one winner will be chosen randomly. The deadline to enter is October 30, 2011.
In the meantime, the ComedyGuys.com Website promises "We will not sell your personal information to any third party. No one is going to get your name or telephone numbers from us."
The heart of this giveaway is the Caption the Photo contest. Contestants visit the ComedyGuys.com website to register and leave their caption to the contest photo. Captions must be submitted before July 31, 2011. The caption that receives the most votes before October 30 will win an Apple iPad 2.
As a consolation prize, everyone who registers and submits a caption will be entered into a random drawing for an Apple TV.
Voting for a Favorite Caption is actually the third way to win an Apple iPad 2 in the Get Mobile! Giveaway. Everyone who registers and votes for their favorite caption is entered into a random drawing to win the third Apple iPad 2. Voting continues through October 30, 2011, and people are encouraged to vote once a day to help their favorite caption win.
To enter the Get Mobile! Giveaway or to read all the details, visit Comedy Guys Defensive Driving online comedyguys.com. The site also features driving tips and entertainment in their blog. ComedyGuys.com can be found on Facebook and Twitter.
For years, Texas drivers have been able to take a driving safety course to lower their auto insurance rates and have tickets dismissed, but today's hectic schedules make it hard for many people to fit the six-hour course into their daily life. By making their state approved defensive driving course available on multiple mobile devices, Comedy Guys Defensive Driving has created a course that's both flexible and available anywhere the Internet is.
"We're very proud of our online course," says Comedy Guy's Mark Cooper. "This contest is just another way to spread the word that our defensive driving course works on smart phones and mobile devices. We're as mobile as our customers are."
About ComedyGuys.com:
The people at Comedy Guys Defensive Driving have been providing defensive driving classes to Texas drivers for more than 15 years. Their mix of comedy and traffic school provides the best customer experience for online defensive driving. Or try one of their Dallas TX or Houston TX defensive driving classes. ComedyGuys.com uses the TEA approved driving safety course published by A Safer Driver, Inc.
Read the full story at Comedy Guys Defensive Driving Get Mobile! Giveaway
###