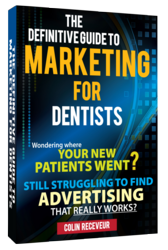 The secret is finding the patients with cash in their pocket to spend.
New Albany, IN (PRWEB) April 26, 2011
Colin Receveur, CEO and founder of SmartBox Web Marketing, has just published a new book, The Definitive Guide to Marketing for Dentists. In it, Receveur dispels many of the myths and mistakes that dentists are led to believe that cost them time, money, and new patients. By taking a "whole-istic" approach to marketing, he sets the record straight about what works (and what doesn't).
"Disregard the hype and advice of advertising reps from the various medium you might use," says Receveur, "because they only speak from within their own framework. Without a bullet-proof metric to judge the effectiveness of your advertising now, you'll never move beyond the advertising rat race."
Receveur believes the reason most dentists have been suffering in recent years is because of ineffective advertising. Newspaper people tell dentists they must repeatedly run ads to build a presence. Radio spot sales people point to their ads as capturing the attention of people over a wide audience. Web gurus say both can be thrown out as the web is where people now connect with local goods and services. "Who is right? Who can prove their advertising actually works beyond a shadow of a doubt?"
"I'm sorry," says Receveur, "but the economy has little to do with the success of a business, especially for dentists. There are dentists who are booming and busy with the procedures they really want to market. The secret is finding the patients with cash in their pocket to spend. Those patients are still looking for dentists who specialize in what they need. They are spending money. Dentists just need to know how to attract them." The information in The Definitive Guide to Marketing for Dentists outlines the proof and shows dentists how to market in a new, profitable way that works in the new dental economy.
In his book, Receveur points to his experience and shows the advertising that works - that captures the attention of local people, and from which a dentist can absolutely know their ROI - is the way to get more patients.
The Definitive Guide to Marketing for Dentists shows dentists:

That despite what any other dentist tells you, despite what you might have read or heard, there are patients out there looking for your services!
How to find local people looking for your dental services, that are searching for you right now!
How to turn those people into new, qualified and "big $$$$" patients!
"There are no magic bullets, there is no 'hocus pocus' that will have patients lining up at your door at 8:00 a.m. But there are proven strategies and effective tactics that can make your advertising work cost-effectively, ones which prove to you their worth. Throw out the garbage, cut to the chase and advertise where you see and get a strong return on your investment. That's the message of my book," says Receveur.
The Definitive Guide to Marketing for Dentists is on sale on Receveur's company website, http://link.smartboxweb.com/books.
# # #