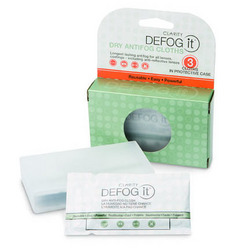 Protective eyewear could help prevent as many as a million home eye injuries a year
Valley View, Ohio (Vocus) June 11, 2010
Almost half of the 2.5 million eye injuries that occur each year in the United States happen around the home. Because nearly 90% of eye injuries are preventable with proper protective eyewear, Defog It antifog liquid and towelettes offers eye safety tips during June's National Home Safety Month, a project of the Home Safety Council.
"Protective eyewear could help prevent as many as a million home eye injuries a year," says Jodi Groh, Director of Marketing for Nanofilm, maker of Defog It antifog towelettes and liquid. "Fogging is one of the reasons people don't wear their protective eyewear. With Defog It, they can put on their safety glasses and keep them on until the project is complete."
Here are some workplace eyewear safety tips to help prevent eye injuries around the home.

Protect your eyes like professionals do. If professionals were handling many of the do-it-yourself jobs we take on at home, they'd be wearing protective eyewear. In fact, safety eyewear may be mandated by the Occupational Safety and Health Administration. Consumers should be just as careful with their vision.
Wear safety eyewear for yard work. Virtually all manufacturers of trimmers, leaf blowers, lawn mowers and other equipment recommend safety glasses.Remember to clear outdoor areas of debris that could become flying particles.
Home improvement projects can have eye hazards. Construction workers have among the highest rate of workplace eye injuries. Do-it-yourselfers are just as much at risk using power tools and hand tools.
Wear goggles when mixing paints or varnishes and to protect eyes from fertilizers and pesticides.
Make sure fogged eyewear isn't a problem. Working in hot, humid weather, moving between hot and cold environments, or heavy exertion can cause fogged eyewear. The wearer may be endangered by impaired vision or remove the safety glasses to improve visibility. An antifog treatment like Defog It can help keep eyewear fog-free and on the worker's face.
Do you need a strap? It will secure the eyewear during work and help keep glasses or goggles close by during downtime.
Teach teenage helpers about the importance of protective eyewear. Like wearing car safety belts, vision safety is an important life lesson. Even people watching the work should protect their eyes.
Insist that anyone you hire for work around the home follow your "house rules" on protective eyewear.
Defog It antifog towelettes and Defog It antifog liquid can provide all-day fog prevention on safety eyewear, eyeglasses, sports goggles and faceshields, and other eyewear. Tested safe for all optics, the formula is used by the military around the world. Defog It antifog products and more information are available at http://www.defogitworks.com and 1-888-ENDS-FOG.
The Home Safety Council (HSC) is the only national nonprofit organization solely dedicated to preventing home related injuries. More home safety resources are available at http://www.homesafetycouncil.org
Nanofilm, founded in 1985, is the maker of Clarity Defog It™ and a global optical leader in lens care and coatings. Millions of people around the world use Nanofilm products, including Clarity Clean It™ and other lens care products, as well as nanotechnology-enabled coatings. More information is available at http://www.nanofilmproducts.com.
# # #