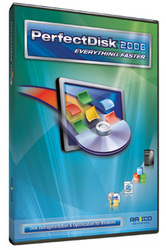 Defragmentation remains critical to achieving optimal performance in Windows 7, just as it has in all previous Windows operating systems
Gaithersburg, MD (Vocus) January 23, 2009
Raxco Software, the leader in disk defragmentation software, announced today that PerfectDisk® 10, the latest version of its award-winning defrag product that will be released next week, provides full support for Windows 7. This support continues PerfectDisk's longstanding tradition of early support for Microsoft's latest offerings.
PerfectDisk also maintains Microsoft's current certifications, including Windows Vista® and Windows Server® 2008.
"Defragmentation remains critical to achieving optimal performance in Windows 7, just as it has in all previous Windows operating systems," said Greg Hayes, manager of technical solutions at Raxco Software. "As usual, PerfectDisk is at the forefront of providing robust, yet easy-to-use solutions for Microsoft's latest offerings. We are happy to be able to provide support for the millions of Windows 7 Beta users with PerfectDisk 10."
About Raxco Software
Raxco Software has been the industry leader in helping large enterprises, small businesses, and consumers with their computer resource management needs for over 30 years. Its PerfectDisk 2008 is Windows® Certified by Microsoft® for Vista and Windows Server® 2008. PerfectDisk products have a long history of winning the industry's highest awards, most notably its perfect 5-star review from CNET Download, winner of the Windows IT Pro Readers' Choice Awards for Defragmentation Utility and Storage Management Tools, Redmond Magazine's Best of the Best Award, and PC Magazine's Editors' Choice Award. Raxco also produces optimization software, for HP's OpenVMS operating system. Raxco Software can be found on the Web at http://www.perfectdisk.com.
Contact:
Sherry Murray
Raxco Software, Inc
301-519-7836
# # #