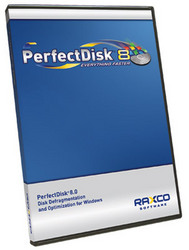 More and more businesses like Denny's are finding that PerfectDisk delivers a superior solution at a fair price
Gaithersburg, MD (Vocus) December 4, 2007
Raxco Software, the leader in disk defragmentation software, announced today that Denny's has chosen PerfectDisk® Version 8 for its server disk defragmentation needs. Denny's, with systemwide sales of over $2 billion and over 1,500 restaurants, has deployed PerfectDisk on its corporate servers.
Prior to purchasing PerfectDisk, Denny's was manually defragmenting its Windows® servers with the Windows built-in defragmenters. "Since installing PerfectDisk, our backup times have decreased significantly, which is critical for us in our production environment," said Karry Edmonds, director of technology services at Denny's. "In addition, we've seen a big increase in application performance, which makes our employees more productive. And with PerfectDisk's automatic scheduling, we can automate the entire process yet still maintain control. The fact that there is a single version of PerfectDisk to suit our server needs was an added bonus."
"More and more businesses like Denny's are finding that PerfectDisk delivers a superior solution at a fair price," said Richard Moskowitz, vice president of sales. "The fact that we can deliver an enterprise solution without charging extra for tough environments is resonating throughout the industry. We're happy that Denny's has found the perfect price and performance solution with PerfectDisk."
Winner of the Windows IT Pro Readers' Choice award, Raxco's PerfectDisk answers the unique needs of users in the enterprise, SMB and home office environments. For IT managers in large enterprise environments, the new Command Center provides a dashboard view of all servers and PCs being managed. A value comparison of disk defragmenters is available at http://www.raxco.com/products/perfectdisk2k/defrag_compare.cfm.
About Denny's
Denny's is America's largest full-service family restaurant chain, consisting of 468 company-owned units and 1,071 franchised and licensed units, with operations in the United States, Canada, Costa Rica, Guam, Mexico, New Zealand and Puerto Rico. You can find further information on Denny's, including news releases, links to SEC filings and other financial information, at http://www.dennys.com
About Raxco Software
Raxco Software has been helping large enterprises, small businesses, and consumers with their computer resource management needs for more than twenty-five years. Its PerfectDisk is Windows Certified by Microsoft®, and optimized for Windows XP. The PerfectDisk line has a long award-winning history, most notably its perfect 5-star review from CNET Download, winner of the Windows IT Pro 2005 and 2006 Readers' Choice Awards for Defragmentation Utility and Storage Management Tool, Redmond Magazine's Best of the Best Award for 2005, and PC Magazine's Editors' Choice award for the past two years. In addition to its PerfectDisk line, Raxco also produces PC optimization software, including system recovery and disk repair products for Windows operating systems and HP's OpenVMS operating system. Raxco Software can be found on the Web at http://www.raxco.com.
Contacts:
Sherry Murray
Raxco Software, Inc
301-519-7836
PerfectDisk is a registered trademarks of Raxco Software, Inc. Windows and Microsoft are registered trademarks of Microsoft Corporation. All other trademarks or trade names are the property of their respective owners.
###