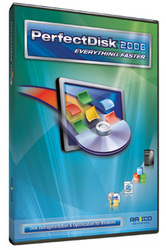 QBS Distribution's stellar reputation and expertise in product licensing, marketing, management and fulfillment are a perfect match for the PerfectDisk brand.
Gaithersburg, MD (Vocus) October 7, 2008
Raxco Software, the leader in disk defragmentation software, announced today that it has teamed with QBS Distribution (QBSD) to distribute the entire PerfectDisk® 2008 family of products in the United Kingdom. This partnership continues PerfectDisk's expansion into international markets.
PerfectDisk 2008 will be made available by QBSD to resellers through automatic download, which means zero delays to their customers and streamlined and hassle-free order processing. Resellers and customers will also be able to obtain first line technical support locally.
"We're delighted with the opportunity to help a company like Raxco, with a great track-record for technology leadership, sell its application PerfectDisk 2008, a product regarded by many as the best in its class", said Skye Quin, Sales and Marketing Director of QBS Distribution.
"We are extremely happy to partner QBS Distribution to help grow PerfectDisk sales in the United Kingdom and Ireland," said Richard Moskowitz, Vice President of Sales at Raxco Software. "QBS Distribution's stellar reputation and expertise in product licensing, marketing, management and fulfillment are a perfect match for the PerfectDisk brand."
Interested resellers should contact QBSD by calling Viral Vora at +44 (0)20 8733 7134.
About Raxco Software
Raxco Software has been helping large enterprises, small businesses, and consumers with their computer resource management needs for thirty years. Its PerfectDisk 2008 is Windows® Certified by Microsoft® for Vista and Windows Server® 2008, and optimized for Windows XP. The PerfectDisk line has a long award-winning history, most notably its perfect 5-star review from CNET Download, winner of the Windows IT Pro 2005, 2006 Readers' Choice Awards for Defragmentation Utility and Storage Management Tool, Redmond Magazine's Best of the Best Award, and PC Magazine's Editors' Choice award. Raxco also produces optimization software, for HP's OpenVMS operating system. Raxco Software can be found on the Web at http://www.raxco.com.
About QBS Distribution
QBS Distribution (QBSD) is a division of QBS Software with a mandate to professionally service software resellers.
The QBSD reseller database has grown extensively over 20 years and it now supplies software to most corporate resellers, Large Account Resellers (LARs), value added resellers, system integrators and any organization which procures software on behalf of others. Registered resellers have access to exclusive online pricing, product information, order history, order tracking and maintenance & support renewal details. Most of our corporate resellers utilise the QBSD specialist software sourcing service to obtain quotes for unusual software items that are not readily available through distribution.
ADDENDUM 1
PerfectDisk Product Backgrounder
Built for the largest and most fragmented disk drives, PerfectDisk 2008 provides the most comprehensive solution for defragmentation by optimizing virtually every file on the system, including all metadata, paging files, and directories. PerfectDisk's patented SMARTPlacement™ technology optimizes drives to speed defrag runs and minimize resource usage. Space Restoration Technology™ ensures free space is consolidated more than any other defragmenter on the market. And it can all be automated easily with PerfectDisk's AutoPilot Scheduling™ and StealthPatrol™.
PerfectDisk is available in these editions:
PerfectDisk 2008 Professional
PerfectDisk 2008 Server
PerfectDisk 2008 for VMware Solutions
PerfectDisk 2008 Command Center
PerfectDisk 2008 for Exchange
PerfectDisk 2008 for Windows Home Server
PerfectDisk 2008 Rx Suite
Contact:
Sherry Murray
Raxco Software, Inc
301-519-7836
Copyright 2008, Raxco Software, Inc. All rights reserved.
PerfectDisk, SMARTPlacement, AutoPilot Scheduling, Space Restoration Technology and Stealth Patrol are trademarks or registered trademarks of Raxco Software, Inc. Windows, Windows Server, Windows Vista and Microsoft are trademarks or registered trademarks of Microsoft Corporation. All other trademarks or trade names are the property of their respective owners.
###