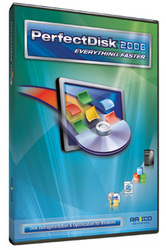 Gaithersburg, MD (Vocus) June 19, 2008 -
Raxco Software, the leader in disk defragmentation software, announced today that Central Washington Hospital, the major medical facility and referral center for North Central Washington, has selected PerfectDisk® 2008 for its disk defragmentation needs on its servers. PerfectDisk was chosen after extensive testing concluded that PerfectDisk performed better in a single pass, had a smaller footprint, and used fewer resources than Diskeeper®.
Prior to deploying PerfectDisk 2008, Central Washington Hospital only rarely defragmented its servers' drives due to the fact that it took several days to complete the task with the Windows® built-in defragger. With PerfectDisk 2008, defragmentation is now done automatically, with no staff intervention or time required. With regular defragmentation, the hospital's database, file and application servers run much more efficiently.
"Now that our servers are being defragmented regularly and automatically with PerfectDisk 2008, they are all performing consistently better," said Christopher Jones, system administrator at Central Washington Hospital. "All our testing showed that PerfectDisk gave us the best defragmentation results, and importantly, also used fewer resources."
"We're extremely pleased that Central Washington Hospital has chosen PerfectDisk 2008 as its disk defragmenter of choice," said Joe Abusamra, vice president of operations at Raxco Software. "Raxco has a long history of serving the health care community, and Central Washington Hospital's commitment to quality health care makes it a customer we are very proud of."
About Raxco Software
Raxco Software has been helping large enterprises, small businesses, and consumers with their computer resource management needs for thirty years. Its PerfectDisk 2008 is Windows® Certified by Microsoft® for Vista and Windows Server® 2008, and optimized for Windows XP. The PerfectDisk line has a long award-winning history, most notably its perfect 5-star review from CNET Download, winner of the Windows IT Pro Readers' Choice Awards for Defragmentation Utility and Storage Management Tool, Redmond Magazine's Best of the Best Award, and PC Magazine's Editors' Choice award. Raxco also produces optimization software, for HP's OpenVMS operating system. Raxco Software can be found on the Web at http://www.raxco.com.
Contacts:
Sherry Murray
Raxco Software, Inc
301-519-7836
###