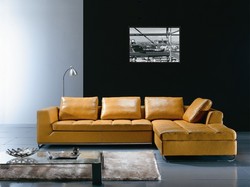 Our goal at DefySupply.com is to provide each customer with a personalized experience"
Minneapolis, MN (PRWEB) December 3, 2009
DefySupply.com, one of the fastest growing e-commerce furniture websites, no longer needs to make a name for themselves in the industry---they're leaving that up to the customer. Starting December 3rd,2009 through Christmas, 2009, DefySupply.com is looking to their growing consumer base to name a sectional or sofa of their choosing.
How does it work? The first customer to purchase any of their sectionals and sofas will have the opportunity to name the model for future customers by simply writing in their name request in the "order comments" section during checkout. Their new and repeat customers can not only customize the color, and shape of their sofas and sectionals, but can name one as well. Or, at least try too.
"We're taking customization to the next level," explains Brand Manager Jeffrey Reid, "our goal at DefySupply.com is to provide each customer with a personalized experience. The first step was allowing customers to change the color and shape; and this step is, well, just exciting."
The only two stipulations of this campaign are that the customer must be the first to purchase the model, and the proposed name must be accepted by DefySupply.com
With a selection of nearly 1,000 living room sectionals and sofa sets, DefySupply's continuously growing customer base will be able to take customization to the next level.
About DefySupply.com
Minneapolis-based DefySupply is a Web-based company that sells all types of furniture at rock-bottom manufacturer's prices, direct to business customers and consumers. They specialize in bar stools, leather sofas, restaurant furniture and dining sets. Through an exclusive relationship with producers around the world, DefySupply is able to ship small or large quantities of merchandise direct to its customers, without charging the traditional markup that customers normally pay when purchasing through wholesale or retail channels. With two pricing options to choose from, DefySupply offers a monthly membership for $4.99 or an annual membership for $38.99, both of which provide members with lowest possible prices and flexible payment options. DefySupply also offers non-member pricing on all products at a slight premium over member pricing. For more information about DefySupply, please visit http://www.DefySupply.com.
# # #